Car Accident Statute of Limitations in Texas: How Long Do I Have to File a Claim?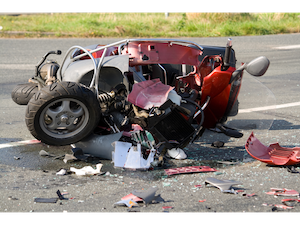 If you are injured in a car accident, it is important to know how long you have to file a personal injury lawsuit against the responsible party. A common question we receive is whether someone must file a lawsuit within two years of being injured in a car accident.
The answer is yes. However, there are exceptions to this rule. For instance, if the accident happened because of another person's negligence, such as failing to yield the right of way, the statute of limitations does not begin to run until the negligent party receives notice of the accident.
In addition, under Texas law, if you are injured in a traffic accident involving a commercial vehicle, such as a truck, bus, or tractor-trailer, you have three years from the date of the accident to file your lawsuit.
Another exception to the statute of limitations is if you are injured due to medical malpractice. Under Texas law, if you suffer injuries resulting from medical treatment, including surgery, your cause of action accrues immediately upon the occurrence of the alleged tortious act.
You do not have to wait until the doctor makes his diagnosis or performs the procedure. Your cause of action begins to accrue when the doctor commits the alleged tortious act, even if you did not discover the harm until much later.
Finally, if you are injured while working, you have two years from the date of your injury to file a personal injury suit.
Statute of Limitations on Car Accident Claims in Texas
If you file a claim for injuries and damages suffered in a car accident against the car insurer, you will need to know what type of case you are filing. A common mistake among people injured in accidents is to file a personal injury suit against the driver of another vehicle involved in the collision. This is known as a "third party" suit. In such cases, the person suing the driver of the other vehicle is called a plaintiff; the defendant is the driver of the other car.
The law requires that plaintiffs file suits against third parties within two years of the date of the accident. This period runs from the date of the accident, regardless of whether the victim knows about it at the time.
However, there are exceptions to this rule, including when the victim files a claim against his or her own auto insurance carrier. When that happens, the applicable statute of limitations is two years from the date of the denial of the claim.
In addition to the two-year limitation period, victims of motor vehicle accidents are subject to the following additional statutes of limitations:
Breach of Contract Claim - Four Years From Date of Alleged Breach
Breach of Duty of Good Faith and Fair Dealing Claim - Two Years From Date of Allegedly Unfair Denial of Benefits
Violation of the Texas Insurance Code - Two Years From the Date Of Alleged Violation
What Happens if the Statute of Limitations Expires?
If you are injured because of negligence or wrongdoing by another person or entity, it is important that you know how long you have to bring a lawsuit against that person or entity. In many cases, there is a specific number of days or months that you have to file a lawsuit against someone else. This is called the statute of limitations.
The statute of limitations begins ticking once you discover that you have been harmed. Once the clock starts running, it continues to run even if you don't realize that you've been hurt. So, for example, if you're hit by a drunk driver, you'll probably find out about the injury within weeks or months of being hit. At that point, the statute of limitations begins ticking down.
Once the clock runs out, you no longer have a legal remedy to seek justice. Even if you later learn that the injury was caused by someone else's negligence, you still cannot sue that person unless you meet certain exceptions. For instance, you might be able to sue someone if the person concealed information that could have helped you understand what happened. Or, you might be able to file a lawsuit if the person committed fraud. But, you won't be able to sue if the statute of limitations expired before you learned about the injury.
In most states, the statute of limitations for personal injury lawsuits is either one year or three years. Some states allow additional time to sue over medical malpractice. And, in some states, the statute of limitation does not begin to run until the plaintiff discovers the cause of his or her injury.
How to File a Car Accident Claim in Texas
Filing a car accident claim begins with reporting the accident to local law enforcement officials. This includes contacting the local police department or county sheriff's office. You must call 911 immediately if you believe someone has been injured or killed in the crash.
The police will dispatch an officer to prepare an incident report that notes details of the accident and possibly includes the officer's opinion as to how the collision occurred and who may have caused it. An officer can also summon emergency medical personnel if someone involved in the crash has been seriously injured or appears to be in danger of being injured.
A police officer can also summon the fire department if there is a risk that someone could be trapped inside a damaged vehicle or if there is concern about a potential leak of gasoline or other flammable fluids.
As soon as possible after your car accident, contact your auto insurer to report the loss and obtain information regarding filing a claim. Your insurer will typically assign a claims representative to handle your case.
Once you report your accident or make a claim with your insurance company, you will probably be contacted by a claims representative who will serve as the primary point of contact between you and the insurer during the claims process.
Contact a Texas Accident Lawyer
An experienced accident lawyer in Harris County, Galveston County, Fort Bend County, Montgomery County, Brazoria County, Houston, Sugar Land, Missouri City, and Stafford, Texas at Thornton Esquire Law Group, PLLC, can help you with your accident case. Contact us today at www.thorntonesquirelawgroup.com for a free consultation.