Rahlita D. Thornton
It is well known among Rahlita D. Thornton, Managing Member Attorney of Thornton Esquire Law Group, PLLC's clients and peers that this Accident Lawyer and Family Lawyer will talk directly to you! Although many attorneys who handle serious cases do not really ever speak to their clients, this attorney prides herself on the ability to connect with people and enjoys speaking to her clients. The firm also has capable team members who also enjoy communicating with clients about their needs and cases.
Thornton Esquire Law Group, PLLC handles and fights hard when handling all of its cases: Car Accidents, 18 Wheeler Accidents, Motorcycle Accidents, Pedestrian Accidents, Slip and Fall Accidents, Divorces Cases, Family Law Issues, Custody Actions, Child Support, Child Custody, Modification of Child Support, Modifications of Visitation, Contempt Actions when Visitation Orders are being violated, and Adoptions. Managing Attorney, Rahlita D. Thornton also has a keen sense of how to handle and evaluate high profile and high net worth divorce asset cases as she also has a BBA in Accounting, a degree in which she earned Cum Laude Honors when she graduated from Texas Southern University in 1988.
Managing Member Attorney, Rahlita D. Thornton of the Thornton Esquire Law Group, PLLC's reputation and her successes come from being established as an attorney in Houston Texas for almost 30 years and growing up with a family of lawyers which include her sister and her father. Her mother also earned a Masters Degree in Public Administration as a single mother of three and impressed hard work and diligence on her even to this day. She is also a devoted wife and mother and has support and love from her family that keeps her grounded. Although private and protective of her family she loves them immensely and is grateful for their full support in her practice of the law.
She graduated Magna Cum Laude Honors in Law School, with a GPA of 3.87. She was Number 3 in her Law School graduating class and The Top Female in her Law School graduating class are some of her many accomplishments while attending Thurgood Marshall Law School. She also obtained the highest grades in three subjects which she believes reinforced her strong desire to help accident victims. She received the highest A grades in Insurance Law, Torts (Negligence), and Evidence. Hard work had more to do with these accomplishments as she does not believe that she is any smarter than the average person. She will outwork any attorney given the opportunity. She also knows that keeping her positive outlook while pressing the opponent also works out favorably for her and her clients.
As Thornton Esquire Law Group, PLLC continues to grow, Managing Member Attorney, Rahlita D. Thornton is especially proud of peer mentorship throughout the years. It's part of her helping spirit. As she believes a mix of strong and calm traits are necessary for balance. Mentoring fellow attorneys is also a hobby and somewhat of a personal goal to assist fellow attorneys which grew out of her spirit and gratification that came from tutoring while in law school. A city council member often credited her helpful insight on the reason why he was able to graduate and become an attorney. She of course always countered with that it was not her but his own doing.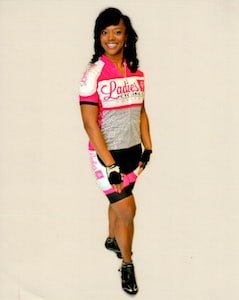 In her spare time she loves to road cycle and connect with her running group where she only is a walker but they still embrace her. She loves the running group and the comrade that comes along with it. One of the most life altering creations for Attorney Rahlita Thornton was forming, founding, and creating The Houston Ladies Cycling Club. This club was started in 2014 and now has more than 400 members in Texas and beyond. These ladies have shown Attorney Rahlita D. Thornton resilience and she is firmly planted in the group and as it has evolved it has become sort of a sorority for weekend warriors on road bikes. She is especially fond of the connections that it has brought for all of the ladies who actively participate and support each other.
Establishing herself in private practice immediately after graduating from law school, Managing Member Attorney, Rahlita D. Thornton has been practicing in Houston Texas and surrounding counties and cities such as Harris County, Fort Bend County, Brazoria County, Missouri City, Pearland, West University, Richmond, Rosenberg, Sugarland, Stafford, Katy, Cypress, Baytown, Pasadena and Angleton. The firm's office is located in Houston near River Oaks and Sugar Land (by appt only). Phone and remote accessible appointments are also available to our clients to expeditiously and effectively address pressing emergency legal matters handling all areas of Personal Injury Accidents, Car Accidents, Truck Accidents, Pedestrian Accidents, Motorcycle Accidents, Commercial Vehicle Accidents, Distracted Driving Accidents, Drunk Driving Accidents are all serviced at Thornton Esquire Law Group, PLLC.
Managing Member Attorney, Rahlita D. Thornton's love for the ability to help people in intense situations, make major life changes, is why her firm Thornton Esquire Law Group's culture, is one of hard work, attention to detail, and positive attitudes despite the chaos that might be going on with cases. The firm's clients often feel that they are treated like family and are very comfortable. They find themselves with smiles after communicating with its staff. The firm's staff are even at times asked to attend personal functions hosted by the client. "I really am glad to talk to you guys, I especially felt easier because you're women." Cathy Doe from Sugarland expressed after her first meeting with the firm. The firm's strengths are being able to see the light at the end of the tunnel for its clients. The firm puts the clients' interests above its own. This is what we mean when we say "Clients come first!" We are on a mission to make all of our clients feel that they are a part of our Legal Family for life. So, if you want to just be treated like a number or a business opportunity please find another law firm. That won't happen at Thornton Esquire Law Group, PLLC. Our clients really appreciate and are grateful for the attention to detail shown in each of their cases. Call us if you are looking for a LEGAL FAMILY!
Education
J.D., Thurgood Marshall School of Law, 1991
Magna Cum Laude Honors
Top Female in Class
No. 3 Overall in Graduation Class
B.B.A. in Accounting, Texas Southern University, 1988
Cum Laude Honors
Beta Alpha Psi, Honor Fraternity
Iota Phi Lambda, Business Sorority
Lamar High School, 1983
Member of Arrowettes
Jurisdictions Admitted to Practice Licensed to Practice in the Entire State of Texas
Texas Courts
Southern District of Texas
Texas Supreme Court