The Complete Guide to Filing for Divorce without Children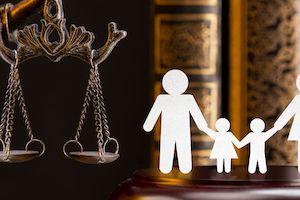 Filing for a divorce can be an emotionally and legally challenging process. When a couple decides to end their marriage, there are certain legal processes that must be adhered to in order for the divorce to be finalized. In Texas, couples who do not have children under the age of 18 together must follow specific laws in order to divorce successfully. First and foremost, both parties must agree on how to move forward with the divorce. The state of Texas requires spouses who are not parents to live apart from their spouse for at least three months before they can file for divorce. After filing, the other spouse will have 20 days to respond and contest any terms of the divorce if they disagree.
In addition, all marital assets must be fairly divided among both parties prior to filing for a divorce without children in Texas. It is recommended that each party hire separate attorneys who specialize in family law as they can provide valuable advice on how best to divide property and debts equitably while protecting each partner's individual rights during this time. Furthermore, couples who choose not to hire lawyers will need to fill out and submit specific forms dealing with support matters, division of debt and property, attorney's fees, name changes, and more depending on their particular situation.
What Are the Legal Outcomes of a Divorce?
Going through a divorce is a difficult and emotional experience for the entire family. It marks the end of a marriage and can have lasting effects on all involved. In addition to the end of the marital relationship, a divorce also settles any financial issues between the two parties, from property division to debt allocation. This is particularly important if there are children involved, as child support finances may need to be determined. A divorce also allows one spouse (if requested) to change back their name to one used prior to marriage.
A skilled attorney can help ensure that both parties get an equitable share in regard to property and debts; depending on individual state laws it may be necessary for certain documents such as prenuptial or postnuptial agreements signed by both parties prior to the culmination of proceedings. Furthermore, a lawyer can provide advice through custody negotiations while representing your best interests in court hearings. All decisions should be carefully considered and documented so that they can be executed properly when reviewed by the courts at the finalization of the divorce process.
Is it Possible to Initiate Divorce Proceedings in the State of Texas?
Filing for divorce in the state of Texas can be a complicated process, especially due to the state's residency requirements. In order to file for a divorce in Texas, either you or your spouse must have lived in the state for at least six months prior to filing and must have resided in the county where you are planning on filing for at least 90 days prior to that.
In addition to these residency requirements, you must also meet certain qualifications depending on your current family situation. If children are involved, both parents' locations should reflect their participation in child support or custody situations. And regardless of your situation, it is important to ensure that any paperwork filed through the courts is filled out completely and accurately before being submitted. Before filing for divorce, it might be beneficial to consult with an attorney specializing in family law who can guide you through this process and provide additional legal advice as needed.
What Documents Are Required to Initiate a Divorce Process?
Filing for divorce can be a difficult and emotional process, but having a complete understanding of the paperwork you will need to file is an important step in completing the process successfully. The Original Petition for Divorce is the first required document that must be filed by one of the parties involved- it will outline all relevant information about the marriage as well as what each party is asking for within the agreement. Additionally, your jurisdiction might also require a Civil Case Information Sheet which serves as a cover sheet for your petition and typically covers information such as your name, address, classification of marriage, etc. Depending on where you decide to file your divorce documents or whether you choose to e-file them yourself, the Civil Case Information Sheet may not be required.
The importance of gathering all necessary paperwork before filing cannot be overstated –it could become extremely costly if errors are made during the filing process. Generally speaking, it's wise to first consult with an attorney who can provide assistance with ensuring all paperwork is filled out completely and accurately before submitting it to your local court. With that said, having a full understanding of what paperwork must be beyond doubt should help make divorce proceedings easier in potentially difficult circumstances.
What Are the Options if One's Spouse Is not in Agreement With Getting a Divorce?
When comes getting a divorce, it can be an incredibly difficult process, especially if your spouse does not want a divorce. In Texas, divorce is referred to as a "no-fault" divorce, meaning that no one has to be deemed at fault for the marriage breaking down in order for the judge to grant the divorce. This means that even if one spouse wants the divorce and the other does not, the judge will still grant it. According to Texas Family Code 6.001, if either of the spouses believes that their relationship cannot be repaired then they are eligible for a no-fault divorce.
Although your spouse may wish for you to remain married, when it comes time for a court date they will have to accept that their opinion on the matter is not enough grounds to deny a legal dissolution of marriage. It is important to remember that while both parties may want what best suits them, ultimately if one party feels that they are unable to resolve issues with their partner then they are entitled by law to pursue and obtain a legally binding dissolution of marriage; regardless of how much or how little your spouse agrees upon this.
Talk to a Lawyer
An experienced divorce lawyer in Harris County, Galveston County, Fort Bend County, Montgomery County, Brazoria County, Houston, Sugar Land, Missouri City, and Stafford, Texas at Thornton Esquire Law Group, PLLC, can help you with your divorce case. Contact us today at www.thorntonesquirelawgroup.com for a free consultation.