The Legal Guide to Establishing Proof of Paternity: What Single Fathers Need to Know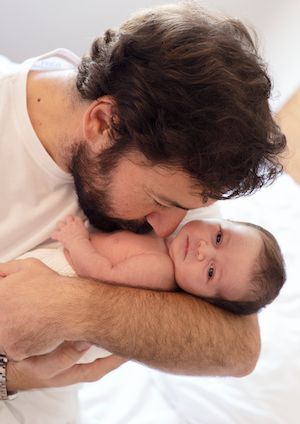 Proof of paternity is the establishment of a father's role in the life of a child. It is most often sought for legal reasons such as immigration, visa applications, social security benefits, and more. In order to ensure that fathers are accurately identified within families and that their financial and legal rights are acknowledged, proof of paternity may be established through various methods.
One common method of establishing paternity is through DNA testing. A geneticist can run a DNA Test which will tell if the results match biological parents or not with accuracy rates of 99% or higher. Alternatively, parents can sign an affidavit with their state's Vital Statistics office in which they both agree on the parentage of their child at birth. Other methods include having a court order indicating paternity after one party has filed a petition in family court or via acknowledgment on a birth certificate or delayed birth certificate.
Single fathers who are seeking to establish paternity should keep in mind that no matter what form it takes, proof of your role as a parent is essential for many legal goals like establishing visitation rights or custody agreement changes.
Proof of Paternity Is a Legal Document Confirming the Father of a Child.
Proof of paternity is an important document and process to establish the legal relationship between a father and a child. It is usually necessary to provide proof of paternity when childbirth occurs outside of marriage, or if it's uncertain who the father of the child is. This can be done through documentation such as a birth certificate or by processing DNA samples to see if there is a genetic connection between the father and the child. In some states, these laws have been codified into law such that presumptions are appointed even where no real biological relationship may exist. This is commonly done based on one parent's marriage license and evidence that the child was conceived within that particular marital period.
In cases where no legal proof of paternity exists, little can be done to assign parental rights or responsibilities to minor children. It is important for both parents and their children that fathers take responsibility for establishing paternity in order to protect their rights as fathers - such as access to medical history for serious medical conditions - as well as ensuring that children receive financial support from both parents in the form of welfare benefits, college tuition reimbursement, inheritance rights, etc. Establishing proof of paternity, therefore, ensures a more stable environment for familial relationships going forward.
Proof of Paternity Documentation
When it comes to proof of paternity, the process can be tricky. If you and your ex were married at the time that your child was conceived, then a marriage license or other documents pertaining to any legal separation or divorce may suffice as evidence. This is due to the law stating that when a child has been conceived during a marriage, the husband must be seen as genetically responsible for the child. As such, many states will not even bother with genetic testing in these cases.
However, if you were not married at the time of conception or have never been married at all, then you will need to bring a Declaration of Paternity (also known as an Acknowledgment of Paternity form) or an affidavit of paternity along with you when filing paperwork with your state's vital records division. These documents are meant to provide legal proof that the individual is in fact the biological father of the child in question. In some states, these documents are accepted as legally binding whereas others require additional documentation like a court order or DNA test. You should investigate which is accepted by your particular state before filing anything else.
Blood Tests may be Needed to Establish Paternity.
In today's society, a blood test is often required as evidence to legally and definitively prove paternity. This happens when documentation of the father-child relationship cannot be provided in other forms such as a marriage certificate or birth certificate. In such cases, the Office of Child Support Enforcement will require a presumptive father to submit to DNA testing. The results of this genetic testing provide conclusive proof that numbers are among the strongest in the legal system.
The process of obtaining DNA results is easy and affordable, making it the definitive way to put an end to any questions concerning paternity. Moreover, due to recent advances in technology, the time it takes to receive these results has been drastically reduced while keeping accuracy at its highest levels. All that needs to be done is for a lab-certified sample of either saliva or blood from both parties involved in question must be submitted so that their respective genetic signatures can be compared and analyzed. Afterward, the final report will determine whether or not there is a connection between them and if positive, will offer conclusive proof of paternity for use in court proceedings and other legal matters.
Get Help From an Experienced Lawyer in Texas
An experienced family law attorney in Harris County, Galveston County, Fort Bend County, Montgomery County, Brazoria County, Houston, Sugar Land, Missouri City, and Stafford, Texas at Thornton Esquire Law Group, PLLC, can help you explain and navigate the entire case process. Contact us today at www.thorntonesquirelawgroup.com for a free consultation.