The Ultimate Guide to Personal Injury Claims in Texas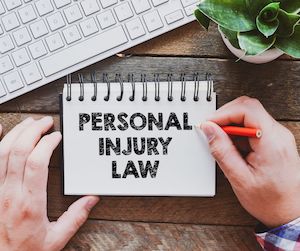 Personal injury lawsuits in Texas aim to provide compensation to those who have been injured due to another's negligence. These claims are highly nuanced, because injury cases vary widely in terms of the type and severity of injuries and awards can range from a few thousand to tens of millions of dollars depending on the circumstances.
If you have been involved in an accident caused by another person's carelessness or negligence, it is important to assess whether you may have a viable case for personal injury claims. To bring a successful injury lawsuit, two factors must be established: negligence caused the accident and negligence caused your injuries. Negligence can mean different things in different cases, such as when someone fails to obey traffic laws or does not drive cautiously for the given conditions. In regards to car accidents, this could involve anything from speeding, distracted driving, and even impaired driving.
When evaluating a potential personal injury case, it is also necessary to evaluate the extent of harm suffered in order to assess whether damages are worth pursuing legally. This would entail looking at medical bills, missed wages from work due to recuperation periods, and extraordinary expenditures incurred during recovery. Though establishing a case of negligence and then proving damages can be complex matters that require the right legal advice, if proven successfully this could result in obtaining monetary compensation for any real losses suffered as a result of another person's actions.
The legal procedure for a personal injury lawsuit in Texas.
When someone suffers a personal injury due to the negligence of another person or entity, they should immediately contact an experienced personal injury attorney. The lawyer can provide valuable legal knowledge and experience helpful in establishing who is at fault and what kind of damages should be sought. During this time, both parties will discuss the incident, understand any applicable laws that may be relevant, go over estimated steps for moving forward with the case, and explain the details and process of a contingency fee contract.
Having an experienced personal injury attorney by your side can provide peace of mind when seeking justice for a personal injury suffered due to another's negligence. The attorney could help prepare evidence to support your claim and work hard to pursue your case against any responsible parties. Once all information has been exchanged during the initial consultation, you can proceed with confidence in knowing your rights are being protected.
Consider hiring an attorney for your personal injury case.
When you've been injured due to the negligence of someone else, you may think that dealing directly with the insurance company is all that needs to be done in order to get your settlement check.
It is commonly known that insurance companies tend to offer low settlements to injury victims who do not have legal representation. It is advisable to hire an attorney for personal injury cases to ensure that a fair and reasonable amount is received for any damages related to the injury.
Evaluating the Value of Your Personal Injury Claim.
Determining the exact value of a personal injury claim can be difficult, but there is an array of factors that help to shape how much you can receive in compensation. The financial burden associated with the injury and any connected medical treatments is two of the most important indicators used to calculate how much is owed to you. Additionally, jurors will also take into consideration the severity of your injury as well as factor in quantifiable elements such as ongoing physical therapy or lost wages if missing work was a result. It is essential to provide evidence that clearly demonstrates another person's negligence was responsible for your injuries, though proving this can come with its own challenges.
Outside of these major components, there are other factors that will impact your claim too; from pain and suffering to aggravated damages in cases of particularly despicable or reckless behavior. Jurors may even assess the reputation and conduct of all parties involved, imposing both exemplary and punitive damages when necessary. Assessing the worth of a personal injury claim requires complex evaluation over multiple points so ensuring agreed terms are neatly defined and undisputed by all relevant parties is strongly advised.
Get Help from an Experienced Personal Injury Lawyer in Texas
An experienced personal injury lawyer in Harris County, Galveston County, Fort Bend County, Montgomery County, Brazoria County, Houston, Sugar Land, Missouri City, and Stafford, Texas at Thornton Esquire Law Group, PLLC will take over the case from the very beginning and make sure that you receive fair compensation for your injuries. A personal injury lawyer will help you recover medical expenses, lost wages, pain and suffering, and other losses due to the accident.Contact us today at www.thorntonesquirelawgroup.com for a free consultation.