Contested Divorce: Understanding the Basics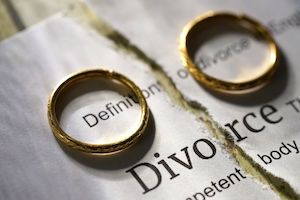 A contested divorce refers to a situation where spouses are unable to reach agreements on one or more major issues such as property division, child custody, or spousal support. This often leads to a lengthy and emotionally draining legal process that can last for several months or even years.
In a contested divorce case, each spouse hires their own attorney to represent them and advocate for their interests. Additionally, the proceedings involve numerous court hearings where both parties must present evidence and arguments supporting their positions on the disputed issues. Even if the couple ultimately reaches an agreement outside of court, it still has to be approved by a judge before the divorce can be finalized. Overall, contested divorces are often complicated and can be very expensive due to legal fees and costs associated with litigation.
What Does Contested Divorce Mean?
When spouses choose to end their marriage, the ideal situation would be an uncontested divorce. In such cases, both parties have mutually agreed on all issues related to property division, child custody arrangements, and alimony payments. However, in some cases, couples cannot come to a mutual agreement and go through a contested divorce. This is when the process becomes particularly complicated.
Contested divorces are often emotionally charged due to significant disagreements between spouses on crucial issues. Due to the severity of unresolved disputes, the court may intervene to settle the issue fairly. The legal proceedings of such divorces take longer as both parties argue their respective sides before a judge or mediator. Litigation and court hearings may become necessary before resolving conflicts regarding child custody arrangements or dividing marital assets. Overall, it is important for couples going through a contentious divorce to have skilled legal representation that can advocate for their best interests throughout this difficult process.
Contested Versus Uncontested Divorce
Divorce can be a complicated and emotionally charged process, and the complexity only increases when the spouses are unable to agree on major issues. In such cases, a contested divorce is necessary, which involves going to court and allowing a judge to make decisions on matters such as property division, child custody, and spousal support. This can lead to greater expense and time commitment than an uncontested divorce.
On the other hand, an uncontested divorce can be less stressful for both parties involved since they are already in agreement about all aspects of their separation. The legal process is generally quicker in such cases since there is no need for extended negotiation or litigation. However, it's essential to keep in mind that filing for either type of divorce depends on individual circumstances, financial situation, and assets at stake which may impact legal requirements. Understanding these differences between contested and uncontested divorces will enable individuals to choose the right alternative for their needs.
Uncontested Divorce
An uncontested divorce can be a lot less stressful than a contested one. When both spouses agree on all the divorce-related issues, there is no need for negotiations or legal posturing, and hopefully fewer court hearings. Hence, the process is usually cheaper because legal fees are lower. If you want an uncontested divorce, however, it's essential to know what your state requires so that you do everything right from the outset.
Consulting with an attorney may be necessary to ensure that all of your legal requirements are met. A local attorney or checking your courthouse website may help you understand specific guidelines before proceeding further in obtaining an uncontested divorce. When appropriate legal processes are followed, preserving a relationship between spouses is possible even after separation through an uncontested method. This aspect of an uncontested divorce is especially important if they have children together as many couples wish for their children not to be affected by the strain of this dramatic life event between their about-to-be-divorced parents.
Contested Divorce
Contested divorces can be incredibly stressful and expensive for both parties involved. The additional steps required to complete a contested divorce, such as filing multiple legal motions and gathering information through the discovery process, can significantly extend the time it takes to finalize the divorce. This extended timeline can make it harder for both parties to move on emotionally and financially from their marriage. Additionally, the involvement of attorneys throughout the process can drive up legal fees and leave less money for each party to start a new life after the divorce.
While contested divorces do offer an option for spouses who strongly disagree on certain aspects of their separation, it is important to weigh the potential drawbacks against those benefits. As with any legal proceeding, taking time, in the beginning, to consult with a qualified attorney and have an honest conversation about goals and expectations for the outcome can help provide guidance throughout a difficult process. Ultimately, whether or not to proceed with a contested divorce is something that every couple must decide based on their unique circumstances and priorities.
Talk to a Lawyer
An experienced divorce lawyer in Harris County, Galveston County, Fort Bend County, Montgomery County, Brazoria County, Houston, Sugar Land, Missouri City, and Stafford, Texas at Thornton Esquire Law Group, PLLC, can help you with your divorce case. Contact us today at www.thorntonesquirelawgroup.com for a free consultation.