Fathers' Rights in Texas: A Comprehensive Guide to Paternity Laws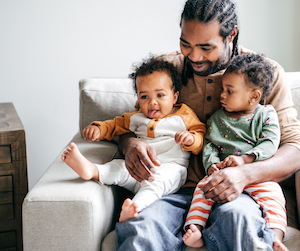 Establishing paternity is a crucial step in ensuring that the rights of both parents and their children are fully protected. Doing so helps to ensure that a child has the legal, social, and financial support from the father necessary to grow and be successful. Fathers gain increased rights by establishing paternity, such as the ability to pursue child custody or visitation rights, make decisions about health care for their child, and provide financial assistance in raising their child. Additionally, there may also be benefits for the mother like receiving support from the father when it comes to caring for her child financially.
It is important for unmarried parents to establish paternity for every child who is born out of wedlock so that everyone involved knows where they stand legally. DNA testing can be used to scientifically confirm who a person's father is. If paternity is not established within certain states' time frames set down by law then many or all of these rights may never be realized than otherwise would have been enjoyed if such an establishment had occurred within this timeframe.
Benefits for Children
Establishing paternity is a crucial process for securing the welfare of a child or children and establishing their legal relationship with their father. It is beneficial to the health, security, and overall quality of life of the child involved. When paternity has been established, it allows the father to provide his child with medical insurance, life insurance, and other benefits such as family inheritances, veterans benefits, and social security. This means that the child will have financial resources available to them that they would not otherwise be entitled to if paternity had not been formally determined.
The importance of having these resources available to a child should not be overlooked. Access to good healthcare can contribute significantly to their physical development during adolescence and beyond. Having access to basic life necessities such as food, clothing, and shelter is also of utmost importance in helping them reach positive developmental milestones. Veterans benefits offer educational opportunities while social security provides financial protection in case of guardianship changes or death. These are all examples of how establishing paternity can help ensure that a child's present and future needs are met.
Benefits for the Mother
Establishing paternity is a beneficial process for the mother of a child. When the legal rights of both parents are established, it ensures that the mother and father both share in the responsibilities involved with raising their child. This involvement should not only be financial but also involve support for day-to-day decisions regarding childcare and other important issues. Furthermore, establishing paternity provides mothers with security when it comes to estimating how much parent contributions will be used to cover their child's costs before they turn 18 years old.
Paternity recognition makes certain that fathers become primary contributors to their children's care, welfare, and expenses such as healthcare, education, insurance premiums, and more. If a mother is financially struggling due to unanticipated circumstances like job loss or medical bills beyond her reach, knowing that she will receive regular payments from her partner can be an immense weight lifted off of her shoulders. Establishing paternity also allows mothers to access governmental aid if needed depending on each state's policies in order to ensure a well-rounded upbringing of their children.
Benefits for the Father
Establishing paternity is an important step for both children and fathers, providing the child with a sense of security and the father with legal rights and privileges. Once paternity is established, fathers are legally responsible for their child's well-being and allowed to have custody or visitation rights. Having verified paternity also means that fathers can inherit from their children as well as support them financially should something happen to them such as illness or injury. Financial assistance from the father includes receiving social security payments, pension plans, insurance benefits, and other forms of monetary compensation.
In addition to legal rights and responsibilities, establishing paternity through DNA confirms that the father cares for his child by wishing to establish a long-term connection with them. Through this bond, a father can be more proactive in his involvement in his child's life- they may offer guidance on educational choices or simply provide emotional support throughout difficult times. Ultimately, proving fatherhood is also an act of love; being present in a child's life speaks volumes about how much a parent cares for their son or daughter regardless of circumstances. This act of proactive parenting has many benefits – improves the mental health of all involved parties as well as cultivate healthy relationships between parents and children into adulthood.
Methods for Determining Paternity in Texas
The establishment of paternity in Texas can occur either voluntarily or involuntarily. Voluntary acknowledgment of paternity (AOP) is the simplest way to establish legal paternity, and this typically takes place at a hospital when a child is born or can be completed after birth by signing the form and mailing it to the Vital Statistics Unit in Texas. The necessary forms for AOP can be obtained from hospitals, local birth registrars, the Attorney General's Child Support Office, and the Vital Statistics Unit. This submission serves as evidence that both parents acknowledge the designated man as the biological father of the child.
Involuntary establishment of legal paternity occurs via court proceedings. If a mother has sole custody over a child but does not know who the father is, she may file a suit for declaration of paternity to solicit DNA testing from all possible fathers. An order from genetic testing supplies solid evidence of true biological fatherhood and will therefore legally certify paternal rights, including inheritance rights as well as visitation rights for Father's Day celebrations – allocating an active role for Dad in others' life events such as graduation ceremonies and graduations. This can ensure even if your relationship with his or her other parent has deteriorated.
Contact an Experienced Family Law Attorney in Texas
An experienced family law attorney in Harris County, Galveston County, Fort Bend County, Montgomery County, Brazoria County, Houston, Sugar Land, Missouri City, and Stafford, Texas at Thornton Esquire Law Group, PLLC, can help you explain and navigate the entire case process. Contact us today at www.thorntonesquirelawgroup.com for a free consultation.