How to Understand the Difference Between Alimony and Spousal Support in Texas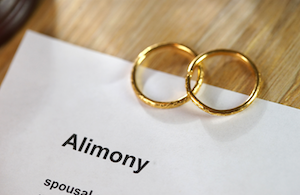 When couples contemplate getting a divorce in Texas, one of the questions that often arises is whether either spouse can be awarded alimony. However, it is important to note that "alimony" as traditionally used throughout the United States is not usually provided for under Texas law as an entitlement. This concept is often confused with spousal maintenance or spousal support, which may be court-ordered in certain situations – but only when their are specific criteria met. The legal infrastructure of spousal maintenance also differs from traditional alimony in that it does not provide long-term payments on an indefinite basis and is organized structurally for rehabilitation purposes.
In its most basic terms, if either party needs help in maintaining their former lifestyle post-divorce to establish self-sufficiency and meet their monthly obligations, alimony or spousal support could be an option – although only if a specified criterion exists. It is helpful to educate oneself on the spectrum of options available related to marriage dissolution proceedings so one can make informed decisions during this turbulent time.
Alimony in Texas
In Texas, alimony is not a mandated right and must be mutually agreed upon in the Final Decrees of Divorce. There are no set eligibility requirements or caps on the amount and duration of spousal support, allowing more flexibility for the parties involved.
However, due to the lack of alimony being codified as a right in Texas, this type of agreement is not very common. Since courts do not usually order it without both spouses requesting it in the settlement agreement, understanding what options are available when planning for post-divorce finances between parties can be essential if agreeing to include provisions for alimony as part of their divorce settlement.
Spousal Maintenance/Support Is a Legal Concept in Texas.
Spousal maintenance, known as spousal support in Texas, is payment from one spouse to another. It is ordered by the court and may be a one-time lump sum or a series of payments based on the recipient's current or future income. The responsible party for such payments is called the "obligor". All spousal maintenance in Texas must abide by provisions outlined in state Family Code Section 8.001(1).
Spousal maintenance payments are intended to support both spouses upon dissolution of marriage and help bridge economic gaps resulting from the marriage breakup. In many cases, it will allow the receiving spouse time to become self-supporting or independent once again. There are various factors considered by courts when setting amounts owed in spousal maintenance orders such as length of the marriage, education level of each party, and age among others. If one spouse is unable to adequately provide for their own basic needs due to disabilities acquired during the marriage then this will likely be taken into account when deciding on an appropriate level of support.
In Texas, Certain Criteria Must be Met in Order to Qualify for the Court System.
The Texas court system outlines a specific set of eligibility requirements for those seeking spousal maintenance from a former spouse. The most important of these is that the requesting party must be unable to fully support themselves financially after the divorce. As defined by Tex. Fam. Code Section 8.051, means the applicant must be unable to meet their minimum reasonable needs without additional financial support from their former spouse.
In addition to being in need of financial help, an applicant for spousal maintenance must also meet one of several other criteria based on the household income, age, and responsibilities of each individual involved in the divorce ruling; or whether the mental or physical disability was used as grounds for the original divorce ruling. These additional criteria are outlined within Tex. Fam Code § 8062 allows the court to ensure that only those individuals truly needing financial aid through spousal maintenance can receive it through the state-mandated programs.
Determining Spousal Support Amounts in Texas.
In Texas, courts are subject to maximum limits when deciding the amount of spousal support that should be awarded. This typically cannot exceed 20% of a paying spouse's average gross monthly income or $5,000.00 per month, whichever is lower.
According to the Texas Family Code, gross income for the calculation of spousal maintenance includes items such as salary, wages, bonuses and tips, personal investments, and property dividends regardless of whether or not the items are taxable.
Veterans under certain conditions may qualify to receive compensation without affecting the award limit set by family code 8.055 while other circumstances like retirement benefits and social security payments may be allowed at the court's discretion. It is possible to have deviations from this rule during order modifications or when extended orders for five years or more are approved.
The Length of Spousal Maintenance in Texas
The duration of spousal support in Texas depends on the length of the marriage. In cases where parties were married for 10 years or less, a spouse can receive spousal support for up to 5 years. For marriages between 10 and 20 years in length, the court may award spousal support for up to 7 years. In marriages that lasted more than 20 years, courts may award up to 10 years of spousal maintenance. However, the court must consider valid factors such as the age and disability of each party when determining just how long any one party should receive spousal maintenance.
In addition to accounting for the length of a marriage for the purpose of establishing the duration for which alimony is paid out, there are also other considerations taken into account by Texas law when it comes to granting and setting terms for spousal support. These include revenue that each individual might earn in the near future, any disabilities or special needs of either spouse, any separate property owned by either spouse prior to or during the time they spend married, and any financial resources available to both parties before or during the divorce proceedings.
Talk to a Lawyer
An experienced family law attorney in Harris County, Galveston County, Fort Bend County, Montgomery County, Brazoria County, Houston, Sugar Land, Missouri City, and Stafford, Texas at Thornton Esquire Law Group, PLLC, can help you explain and navigate the entire case process. Contact us today at www.thorntonesquirelawgroup.com for a free consultation.