Learning the Basics: Personal Injury Law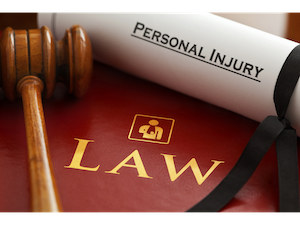 Personal injury law refers to injuries caused by someone else's negligence. These types of claims are often referred to as personal injury because they involve damage done to people rather than property. For example, if you slip and fall on someone else's property, you could sue that person for damages, including medical expenses, pain and suffering, lost wages, and emotional distress. If you suffer a broken leg while playing softball, you might file a claim against the team or league that organized the game. In both scenarios, you're seeking compensation for harm suffered due to another party's negligent actions.
The most common type of personal injury lawsuit involves car accidents. Car crashes are among the leading causes of death and serious injury in the United States. When a driver fails to yield the right of way or drives under the influence of alcohol or drugs, he or she is liable for any resulting injuries. You might also find yourself injured in a construction accident, slip, and fall, dog bite, motorcycle crash, bicycle accident, pedestrian collision, or some other situation where someone else's carelessness led to your injuries.
If you believe you have been harmed due to someone else's fault, it is important to consult with an experienced attorney. An attorney can help you understand your legal options and advise you about how best to proceed.
The Basics of Personal Injury
Personal injury law applies to injuries caused by intentional acts. These actions include things like assault, battery, false imprisonment, libel, slander, defamation, discrimination, harassment, fraud, invasion of privacy, product liability, wrongful death, and others.
In some states, there are special rules for children under the age of 18. In most states, however, minors can bring claims even though they cannot legally consent to treatment or enter into contracts.
Negligence refers to the failure to use reasonable care. This includes failing to act reasonably, such as driving too fast or texting while driving.
A plaintiff must prove three elements to win a negligence claim: duty, breach, and causation.
Duty is the legal obligation owed by one party to another. For example, a doctor owes his patient a duty of care.
Who Makes Personal Injury Laws?
Personal injury law is one of those things where there really isn't much agreement about how it works. There are lots of different ways to look at it, and many different kinds of injuries. But most people agree that there are some basic principles that govern personal injury law.
There are three main sources of personal injury law. First, there are the common law rules that come out of the way judges decide cases. Second, there are statutory laws that are passed by legislatures. And third, there are judicial decisions based on the common law.
How Does a Personal Injury Case Work?
Personal injury cases involve injuries caused by someone else's negligence. If you slip on a wet floor and break your leg, it's likely that you'll file a lawsuit against the store owner whose negligent maintenance of the premises led to your fall. Injured people often sue because they want compensation for medical bills, lost wages, pain, suffering, and emotional distress.
The process of filing a personal injury claim begins with determining whether the defendant owed a legal duty to the plaintiff. A duty is a requirement imposed by law that requires one party to another to behave in a certain way. For example, a driver owes a duty to exercise due care when operating his vehicle. If he fails to do so, he could face liability for damages resulting from the accident.
Talk to a Personal Injury Lawyer
An experienced personal injury lawyer in Harris County, Galveston County, Fort Bend County, Montgomery County, Brazoria County, Houston, Sugar Land, Missouri City, and Stafford, Texas at Thornton Esquire Law Group, PLLC will take over the case from the very beginning and make sure that you receive fair compensation for your injuries. A personal injury lawyer will help you recover medical expenses, lost wages, pain, suffering, and other losses due to the accident. Contact us today at www.thorntonesquirelawgroup.com for a free consultation.