Texas Car Accident Guide: Everything You Need To Know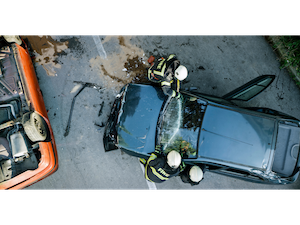 Motor vehicle accidents are a leading source of accidental deaths nationwide, and Texas roadways are among the most dangerous. In fact, the Lone State is the number one state for traffic accident fatalities. Not exactly a statistic to brag about.
According to the National Highway Traffic Safety Administration (NHTSA), a total of 36,906 Americans died in auto accidents in 2019, down slightly from 2018. That same year in Texas there were 3,723 traffic fatalities and 30,982 serious injuries. That's a serious injury happening every 2 minutes on Texas roads.
What We Will Cover in This Comprehensive Guide
In this comprehensive guide, we explain what you should do after a car accident, how to navigate distracted driving accidents, texting while driving accidents, reckless driving accidents, and fatigued driving accidents. We break down the different types of collisions, including head-on, rear-end, sideswipe, and rollover/truck accidents. We provide step-by-step instructions for navigating personal injury claims in Texas, including how to file a claim for medical expenses, lost wages, pain and suffering, property damage, and even wrongful death. Finally, we explain how to maximize your recovery from head-on or rear-end collision.
What Is a "Good Car Accident Personal Injury Claim?"
The quality of your car accident claim depends upon several factors including:
How much money do you want to recover?
What type of injuries did you sustain?
Were there witnesses to the accident?
Did you suffer property damage?
Was anyone injured?
id you receive medical treatment?
What Sort of Compensation Can You Get From Your Car Accident Claim?
If you are involved in a car accident, it is important to know what sort of compensation you might receive. This can help you understand how much money you might be entitled to claim. If you do not know whether you are eligible for compensation, contact our office today to speak with one of our personal injury lawyers. We offer free consultations and can answer any questions about your legal options.
How to Recover Full Costs After an Accident
The cost of an auto accident depends on many factors. In addition to the actual repair bill, there are certain expenses that you may incur even if your car isn't actually damaged. These additional fees could make up a significant portion of what it takes to pay off your vehicle loan, cover medical bills, and replace lost wages.
Repairing Your Car
If your car is damaged beyond repair, you'll need to decide whether to purchase a new one or sell your current model. If you choose to buy a new vehicle, you'll likely face a hefty price tag. You'll also have to factor in depreciation, taxes, registration, maintenance, insurance, gas, parking, tolls, and repairs.
Medical Bills
In addition to the initial expense of replacing your vehicle, you may also need to deal with medical bills stemming from injuries sustained during the crash. Depending on the severity of your injury, you may require treatment at the hospital or doctor's office, physical therapy, pain medication, or surgery.
Pain and Suffering
You might also experience mental anguish due to the trauma of being involved in an accident. This includes stress and anxiety over the possibility of future accidents, fear about how much money you'll owe, frustration over paying your car note while dealing with mounting medical bills, and guilt about causing someone else harms.
Recovering Compensation For Medical Bills
Compensation for your medical bills may be coming from several sources – including the other driver's insurance coverage, your own personal injury protection (PI), your uninsured/underinsured motor vehicle (UMV) coverage or Med Pay, and even your own auto policy.
When it comes to paying medical bills, there are three main types of compensation available:
Personal Injury Protection (PIP): This type of coverage pays for certain medical costs such as doctor visits, prescriptions, and hospital stays. You must pay out of pocket for medical care that isn't covered under your plan.
Uninsured Motor Vehicle Coverage (UMVC): If you're involved in a car accident caused by someone without adequate liability insurance, you could collect UMVC benefits. These benefits cover some of the cost of treating injuries sustained in the crash.
Underinsured Motor Vehicle Coverage (UIM): If you are injured in a collision involving an insured vehicle, but the driver doesn't carry enough liability insurance, you might receive UIM benefits. UIM covers damages up to the amount stated in your policy limits.
The key thing to remember about these different types of coverage is that they don't necessarily provide full payment for all of your medical bills. They generally offer limited payments for specific kinds of treatments and procedures.
In addition, your insurer won't always be able to pay your medical bills immediately. In fact, most plans require that you wait 30 days before submitting claims. So if you need immediate financial assistance, you'll want to consider PIP and Med-pay.
What To Do If You Have Recently Been Involved in a Texas Car Accident
If you have recently been involved in a motor vehicle crash in Texas, there are several things you must do immediately. First, call 911. This will help ensure your safety and result in the creation of an official record of the event. A police officer will arrive shortly thereafter, and he or she will ask questions about what happened and collect evidence. Next, photograph visible injuries, the scene, and anything else that may have contributed to your accident. Finally, exchange contact and insurance information with any other drivers and any involved party.
An experienced Personal Injust Attorney lawyer in Harris County, Galveston County, Fort Bend County, Montgomery County, Brazoria County, Houston, Sugar Land, Missouri City, and Stafford, Texas at Thornton Esquire Law Group, PLLC, can help you with your accident case. Contact us today at www.thorntonesquirelawgroup.com for a free consultation.