Texas Child Custody Laws: Everything You Need to Know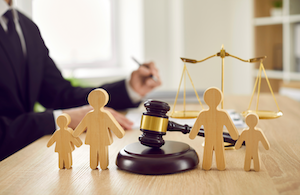 Texas child custody laws aim to ensure that the best interests of the children involved in a divorce or other family law case are protected. Generally, Texas courts put a strong emphasis on split custody arrangements that allow both parents to maximize their time with the children while also allowing them equal or equal-ish rights when it comes to making parenting decisions. In addition, successful mediation is often looked upon favorably as an alternative to court proceedings.
At the initial stage of a divorce or suit affecting a parent-child relationship, courts will strive to craft a parenting plan tailored to meet the specific needs and interests of the particular family. This plan can include different time-sharing arrangements such as equally divided time between both parents, majority time with one parent and visitation with the other, or even extended vacations with grandparents. The court will consider input from both parties before creating its order for child custody rights and responsibilities.
Child Custody in Texas
In Texas, the main purpose of child custody law is to ensure that a child has frequent and ongoing contact with their parents who have proven themselves to be able to act in the best interest of the child. This policy seeks to create a safe, stable, and peaceful environment for the child by encouraging their parents to share in their rights and duties even after they have separated or dissolved their union. The Texas Family Code outlines specific instructions as to how this should be achieved.
The code states that when possible both parents need to abide by a parenting plan that details the responsibilities and decisions concerning care, custody, and visitation for the children involved in such cases. It also requires both parties involved to actively engage in mediation services whenever necessary, in order to work out an amicable arrangement that works well for everyone involved. Furthermore, if disagreements cannot be settled through communication or mediation, then court proceedings will take place making it mandatory that all relevant candidates attend these hearings when required by law. This process ensures that all voices are heard which helps make sure any outcome involving child custody is justifiable.
Managing Conservatorship (Legal Custody)
Managing conservatorship is an important role for parents, allowing them to make critical decisions about a child's life. This responsibility covers decisions related to medical care and treatment, educational pursuits, as well as religious and cultural upbringing.
When both parents have joint conservatorship in accordance with Texas law, they are assumed to share equal accountability for decisions regarding the child. However, if it is deemed to be in the best interests of the child, the court may assign one parent sole conservatorship. This situation arises when there is a history of substance abuse, domestic violence, or child abuse which results in one parent being less capable of making sound decisions.
In cases where managing conservatorship is given solely to one party, they may still be required to provide regular updates on their custody arrangement so that both parties remain informed of any important changes relevant to their children's welfare. Above all else, it is important for parents within these difficult circumstances to seek legal advice from an experienced family law attorney who can guide them through this process in the best way possible for both themselves and their children involved.
Possessory Conservatorship (Physical Custody)
Possessory conservatorship when it comes to physical custody determines the time that each parent spends with the child. Parents are given a degree of flexibility to agree upon a visitation schedule as long as agreements are in the best interest of the child. In Texas, if parents cannot come to an agreement, then the "standard possession order" is set out providing detailed specific times for both parents. This Standard Possession Order applies differently for children depending on differing distanced locations of parents and does not necessarily apply to those under the age of three.
The Importance of Considering the Best Interest of the Child.
While having laws to protect children is vital, so is having the term "the best interest of the child" as an overarching goal. This phrase can and should be taken into account when making decisions that directly involve a child's welfare. Its importance cannot be overstated, as it serves to set apart the rights of a child from any other group or class of people. It ensures that proper thought and consideration are given to what could potentially be in the best interest of a minor if they were to experience something. The Texas law clearly specifies that this concept must serve as the primary consideration when deciding matters concerning conservatorship, possession, and access to a child.
Contact an Experienced Family Law Attorney in Texas
An experienced family law attorney in Harris County, Galveston County, Fort Bend County, Montgomery County, Brazoria County, Houston, Sugar Land, Missouri City, and Stafford, Texas at Thornton Esquire Law Group, PLLC, can help you explain and navigate the entire case process. Contact us today at www.thorntonesquirelawgroup.com for a free consultation.