Texas Trucking Accident Statistics: Everything You Need to Know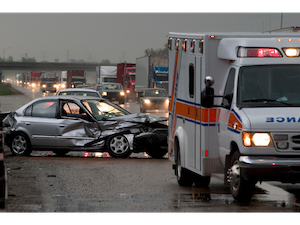 The National Highway Traffic Safety Administration reports that there are over 3 million crashes involving large trucks each year. Of those, about 40% involve a passenger car. In fact, the majority of deaths from commercial vehicles to passenger cars come from occupants of the passenger car – not the driver.
In addition to being larger, heavy-duty trucks like 18-wheelers carry loads that are heavier than most passenger cars. This makes the truck more difficult to control and causes the truck to accelerate faster than a typical passenger car. When the truck hits another object, such as a guardrail, bridge abutment, utility pole, or tree, the impact is far greater than what a passenger car experiences.
Because a car is so much less than a big rig, most of the force of the crash lands on the passengers inside the passenger car. A small amount of energy goes into the windshield and frame of the car, but the rest of the energy is absorbed by the bodies of the people inside.
The size coupled with the higher height clearance terms lead to total destruction of the car in a collision at high speed. The bigger the vehicle, the harder it is to stop. Many accidents happen simply because the big truck couldn't stop as quickly as the cars in front of it. And since 18-wheelers take much longer to slow down, many accidents occur simply due to the fact that the big truck could not slow down as fast as the vehicles in front.
Which State has the Most Tractor-Trailer Accident Deaths?
Texas leads the nation in fatal trucking accidents since 2007, according to data compiled by the National Highway Traffic Safety Administration. In 2017 alone, there were 3,903 fatalities nationwide, including 2,879 people killed in trucking accidents. Of those, Texas accounted for about 14% — or 431 deaths. This makes it the deadliest state for commercial vehicles, even though it represents just 5% of the total population.
There are over 8 million trucks registered in the state, meaning nearly one out of five vehicles on the road is a big rig. And some of those big rigs cross Texas's roads daily. For example, there are approximately 730,000 trips across the state every day, according to the Texas Transportation Institute.
Why Texas truck Accident Cases Are Complicated?
Commercial Vehicles Are Much Bigger Than Cars, Trucks, Vans, And Suvs. They Weigh Up To 80,000 Pounds And Carry Loads Of Over 40,000 Pounds. Because Of Their Size And Weight, Truck Accidents Are Different Than Regular Car-To-Car Collisions. There Are Three Main Reasons Why Truck Accidents Are Unique.
First, because of the weight, the injury potential is astronomically high. A typical passenger car weighs about 2,500 pounds. A semi-truck weighing 80,000 pounds could cause serious damage to another vehicle.
Second, because of the severity of injuries, the stakes for the insurance carriers and the trucking companies involved are significant. Insurance companies often pay out millions of dollars in claims each year due to truck accidents. This is especially true in states like Texas where there are strict laws governing motor carrier insurance requirements.
Finally, in many cases, the truck driver is liable for the accident. If he or she was negligent, it makes sense that the trucking company would want to hold him or her accountable. However, if the truck driver was acting within the scope of his employment, the trucking company may not be held responsible.
In order to obtain maximum compensation for a truck accident case, you must know how to handle the complexities of a commercial vehicle accident.
Top Causes of Big Rig Crashes in Texas
According to the Texas Department of Transportation, the vast majority of big rig crashes in Texas are caused due to one of three things: faulty evasive action; driver inattention; or safety rule violations. In 2016 alone, there were 2,832 fatal crashes involving large trucks, resulting in 4,719 fatalities. Of those deaths, 2,543 occurred while the truck was being driven.
The National Highway Traffic Safety Administration reports that in 2017, there were 3,906 commercial motor vehicle crashes nationwide, resulting in 12,637 injuries and 551 fatalities. Most of those crashes involved tractor-trailers, followed by 18-wheelers.
Contact an Accident Lawyer
An experienced accident lawyer in Harris County, Galveston County, Fort Bend County, Montgomery County, Brazoria County, Houston, Sugar Land, Missouri City, and Stafford, Texas at Thornton Esquire Law Group, PLLC, can help you with your accident case. Contact us today at www.thorntonesquirelawgroup.com for a free consultation.