The Importance of Establishing Paternity in Texas: What You Need to Know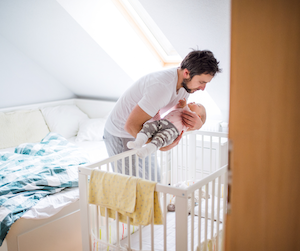 Establishing paternity in Texas is an important issue for parents who are not married and are looking to provide their child with legal protection, including rights to inheritance, support, or medical benefits. In order for a father to establish paternity, he must prove that the child is biologically his.
In Texas, a man may establish paternity through acknowledgment of voluntary process or court action. It's important to note that both parties must agree on the DNA test and results before proceeding with any further proceedings on the matter. In most cases in Texas, a Notice of Suit filed by either party can begin the process. Once sufficient evidence has been provided regarding biological paternity, a Final Order of Parentage will be issued by the court at which time both parties have thirty days to appeal if necessary.
What is Paternity?
Paternity is a legal acknowledgment that establishes a child's father. It goes beyond just being a dad to a child; it creates certain rights, responsibilities, and obligations on the part of the father. When paternity is successfully established by the court, the child will obtain all of their paternal benefits such as financial support, inheritance rights, and medical coverage among other benefits. Paternity also allows both parent and child access to vital family medical history and emotional attachment through maintaining contact with each other.
With paternity established, courts can decide issues regarding custody of the child such as visitation rights for fathers or if asked for by either parent make decisions about the day-to-day care of the minor. Fathers may get ordered to help with ongoing costs related to their children such as childcare funds and paying for health insurance premiums if allowed in court orders. With paternity legally established, parents have more authority in protecting their rights in situations like custody or abuse proceedings. Paternity is an important step in offering long-term protection for children in today's society since it provides them with essential support from both parents physically and emotionally.
What is the Significance of Establishing Paternity in Texas?
Establishing paternity in Texas is an important process that requires the legal acknowledgment of a father's identity. Without it, a child born to unwed parents does not have a legal father under the law, and any rights or benefits to which the child may be entitled are forfeited. Establishing paternity is essential for both parents and children as it helps ensure everyone gains access to necessities such as medical insurance, social security survivor's benefits, inheritance rights, and more.
For fathers, establishing paternity provides them with parental rights. They can access their children's school and medical records, ask for custody in court if separation occurs, and possibly become eligible for child support payments. For mothers who may need help raising a child financially, establishing paternity makes it possible for the mother to receive court-ordered payments from the father. Furthermore, until paternity is legally established no one may make decisions on behalf of a minor child without permission from both parents. Thus both parties need to set up legal recognition of parentage in order to obtain proper care for their children.
Establishing Paternity in Texas
Establishing paternity is an important legal step for both the child and the father. For the child, it provides a sense of identity, access to their family's medical history establishes a relationship with their biological father, and provides access to financial and medical support from him. Establishing paternity also gives the father certain rights and responsibilities, such as being able to visit the child, provide financial and medical support, and have a say in decisions meant to determine the child's future such as educational choices.
Paternity tests are available to establish this legal link between father and child so that both parties may be protected legally. It is important for all involved that this step is not taken lightly as it can have far-reaching consequences in the upbringing of a child by providing them with access to key resources necessary for becoming successful adults. The establishment of paternity can be beneficial for both sides but must be done correctly so everyone involved understands their rights within the relationship.
Who Has the Legal Right to Initiate a Paternity Action to Establish Paternity?
A paternity action is used to establish the legal father of a child when the parentage is in question. 'In Texas, any of the following entities may bring a paternity action: the mother of the child, a man claiming to be the father of the child, a government agency, or the child (including a legal representative if necessary).
The mother may bring a paternity action in order to secure her rights regarding custody and/or support payments for her children. By filing such an action, she can ensure that both she and her children receive proper financial assistance as stipulated by law. Similarly, a man claiming to be the father can file a paternity action in order to secure parental rights over his respective children. Likewise, this will also provide him with legal authority to impose meaningful decisions on behalf of his progeny such as which school they attend and medical care received. As for government agencies, they typically need evidence that an individual is responsible for providing financial support for their dependent. Furthermore, bringing an official claim through court proceedings ensures that all parties involved are properly compensated and protected according to relevant state regulations.
Contact an Experienced Family Law Attorney in Texas
An experienced family law attorney in Harris County, Galveston County, Fort Bend County, Montgomery County, Brazoria County, Houston, Sugar Land, Missouri City, and Stafford, Texas at Thornton Esquire Law Group, PLLC, can help you explain and navigate the entire case process.Contact us today at www.thorntonesquirelawgroup.com for a free consultation.