The Ultimate Guide to Filing for Child Custody in Texas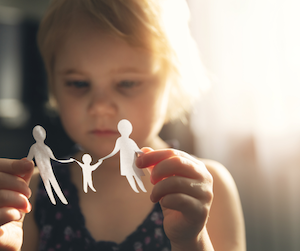 When it comes to family law, filing for child custody in Texas is one of the most important and critical steps a parent can take. It's not only a stressful experience, but it can also be a complicated legal process if done incorrectly. In order to ensure you get the best outcome possible, there are three primary steps that need to be taken when filing for child custody.
First, you must make sure the proper paperwork is filled out correctly and properly filed with the court. This typically includes any relevant documents including your child's birth certificate, financial records such as income tax returns or pay stubs, and an Equal Access Order from the court where both parties agree to joint parenting time. Make sure all documents are signed by both parents in front of a notary public before submitting them to the court.
The second step is obtaining a parenting plan that outlines each parent's rights and responsibilities regarding their children. The parenting plan will set out detailed provisions for visitation or access to each parent's medical information; names of designated persons authorized to sign medical consent forms; aspects like who pays for uncovered costs such as co-pays; division of holidays; honor roll rewards; stipulations associated with technological use including internet access.
Seek Legal Assistance From an Attorney
Enlisting the help of a qualified attorney is an essential step in a custody case. Whether you are starting out with a friendly relationship or have an adversarial relationship with your ex, it's best to consult with an experienced lawyer who can ensure that all the legal details are handled properly. A good attorney will be able to evaluate your situation and provide guidance on which pleadings are needed, guide you through the process, and make sure that your children's best interests remain top priority throughout all proceedings.
An attorney will also work hard to come up with creative options for reaching a resolution that suits both parties needs, such as crafting a detailed parenting plan outlining each parent's respective roles and creating a visitation schedule for any grandparents or other relatives. The experienced lawyer does more than just put documents together; they act as advocates for your case, doing their best to maximize the outcomes from negotiations or court appearances. Lastly, an attorney can provide insight into what types of evidence may be beneficial when making custody decisions regarding your children's future.
Complete Paperwork and Organize Documents
Child custody is a complex process that requires appropriate forms to be filled out and various documents to be prepared. In Texas, filing for child custody begins with a petition filed through the Dallas clerk of the court using a Suit Affecting the Parent-Child Relationship (SAPCR) form.
Upon completion of the necessary steps and payment of fees, official notification must be given to the other parent regarding the filing. A response, such as an answer, counterpetition, or denial can then be filed with the courts. A handful of additional documents must also be completed depending on the type of case being processed. Once all necessary paperwork is finished and collected, the case will advance to either mediation or trial.
Anyone considering filing for child custody in Texas should consult a qualified attorney experienced in family law about their specific situation so that each step can be thoroughly understood and properly addressed. Acting with legal guidance at each stage can help safeguard both sides from any potential missteps or oversights occurring during the proceedings. With sound counsel in place early on in a case, it stands a greater chance of resulting in a successful outcome that meets all individuals involved's best interests.
Begin Collecting Evidence
Gathering evidence is one of the most important steps in a child custody case. Evidence that demonstrates your personal stability and ability to provide for the children will be extremely beneficial. When making a decision about custody, judges will consider various factors including health, stability, income, relationship with the children, and the ability to create a positive environment for their development. Therefore, it is wise to collect any evidence that may help prove you are capable of caring for the children both physically, emotionally, and financially.
Your legal team can often provide advice regarding which types of evidence are important for you to collect and prepare for court. Medical records are usually among this list as they can help demonstrate good or bad physical health or developmental issues in either parent which would affect their ability to provide care. You might also need to put together documents such as a record of your parent's financial contribution, pay stubs for employment verification, relationship proved through emails or text messages, etc., Anything that can help reinforce the fact that you are able to care for your children responsibly should be considered necessary documents to put together.
Contact an Experienced Family Law Attorney in Texas
An experienced family law attorney in Harris County, Galveston County, Fort Bend County, Montgomery County, Brazoria County, Houston, Sugar Land, Missouri City, and Stafford, Texas at Thornton Esquire Law Group, PLLC, can help you explain and navigate the entire case process. Contact us today at www.thorntonesquirelawgroup.com for a free consultation.