The Ultimate Guide to Texas Divorce: Everything You Need to Know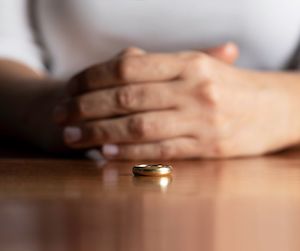 The requirements for filing for divorce in Texas are relatively straightforward. In order to begin the process, either spouse must have been living in Texas for the preceding six-month period and be a resident of the county in which the suit is filed for the preceding 90-day period. Additionally, time spent outside of Texas while serving in the US armed forces or as an accompanying spouse still counts towards fulfilling this residency requirement. Furthermore, if one of the spouses lives in Texas but their partner does not, they can file a suit for divorce in the county where their spouse resides.
Overall, it is important to prepare all necessary documents that prove residency and stay within deadlines set out by state law. Obtaining legal advice prior to filing any paperwork can help both parties understand their rights under the law and ensure that procedures are followed correctly throughout their divorce process. A qualified lawyer can analyze each party's financial and family situation and suggest viable solutions moving forward. By providing professional guidance, these professionals can make sure old mistakes don't resurface during contentious litigation proceedings.
Legal Basis for Divorce in Texas
The state of Texas has seven recognized grounds for divorce, with Insupportability being the first. This state does not assign any fault to either spouse when couples choose this option and instead allows a couple to dissolve their marriage if it is determined they cannot repair differences that have caused the breakdown of their relationship.
In addition to insupportability, there are six other grounds for which one spouse can blame the other when filing for divorce. These include Cruelty, Adultery, Abandonment, Felony Conviction and Confinement in Prison, Living apart without Consent, and Separation by Agreement of both Parties. In order for any of these latter grounds to be invoked, however, sufficient evidence must be provided to the court in order to prove that one spouse is indeed at fault over what has led to the dissolution of the marriage.
Is it Possible to Receive Assistance for Both Myself and My Children?
Maintenance is financial support that may be provided to one spouse, usually after a divorce or separation, in order to help support them financially. In Texas, this is referred to as "maintenance" and the support is typically assigned if one spouse does not have enough property or assets of their own when the marriage ends. Maintenance can be awarded if the paying spouse has been convicted of a crime such as an act of family violence against either their partner or children or if the recipient spouse has a physical or mental disability that prevents them from earning enough money to provide for their minimum needs.
Child Support is a court-ordered obligation for one or both parents to financially support their child or children until certain conditions are met. These conditions usually include reaching adulthood, graduating high school/college, getting married, etc. For child support payments to be enforceable, they must typically be formally established by a court order. Specifically Texas law states that at least one parent must pay child support until age 18 years old, although exceptions may apply depending on individual situations such as financial circumstances and special needs of the child in question.
What is the Process for Dividing Assets and Debts During a Divorce?
In Texas, divorcing couples must divide assets and debts evenly, in accordance with the concept of community property. This means that all assets and debts accumulated during the marriage must be fairly split between both spouses. Texas is one of only a few states to follow this rule – other jurisdictions may rely on different principles. It is important to understand all relevant laws surrounding property division in your state before you proceed.
The specifics of who will receive which assets or debts should be outlined in a Marital Settlement Agreement or Property Division Agreement, which can either be negotiated between the parties and their respective attorneys, or ordered by a court after litigation. When all assets have been accounted for – including houses, cars, bank accounts, credit card balances, and retirement benefits – it's likely that complications may arise when dividing them up equitably among spouses. For example, one spouse may disagree with how something has been valued or attributed and need legal assistance to settle the dispute. Because of this complexity, it is best to consult a lawyer for advice about your individual situation before making any decisions about asset division in the divorce.
Steps Involved in Filing for Divorce?
Divorce can be a challenging process, but understanding the steps involved can help you be as prepared as possible. The first step is to meet the residency requirements of your chosen state. Most states require at least 6 months of residence before filing for divorce.
In order to terminate a marriage, it is necessary to have legal grounds, such as irreconcilable differences, abandonment, or adultery. Next, you will need to file the appropriate divorce papers and ensure that your spouse receives copies. If your spouse disagrees with anything in the divorce settlement, they will have the opportunity to contest it, which may lead to court appearances.
The divorce process can take many turns and be lengthy depending on how much dispute there is between parties. Your local courthouse or experienced attorney will be able to provide more information on exactly what forms are needed and all the steps that must be taken according to state laws in order for a successful filing to happen. Keeping a clear head and seeking professional advice when needed can significantly reduce stress during this difficult time.
Talk to a Lawyer
An experienced divorce attorney in Harris County, Galveston County, Fort Bend County, Montgomery County, Brazoria County, Houston, Sugar Land, Missouri City, and Stafford, Texas at Thornton Esquire Law Group, PLLC, can provide guidance and offer advice throughout the entire process.Contact ustoday at www.thorntonesquirelawgroup.com for a free consultation.