Understanding Collaborative Divorce: A Peaceful Approach to Ending Marriages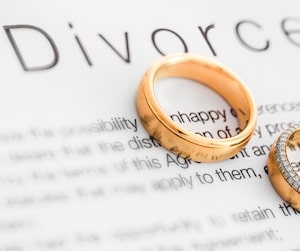 Collaborative Divorce is a respectful and amicable alternative to traditional divorce proceedings, designed to help couples navigate the challenging process of ending their marriage. This approach focuses on cooperation, open communication, and the well-being of all parties involved, including children.
The key aspect of Collaborative Divorce is the commitment of both spouses to work towards a mutually beneficial resolution. Each party hires its own collaborative lawyer, specially trained in this process, who guides and advises them throughout the proceedings. These lawyers are not adversaries but rather act as problem solvers, dedicated to finding fair and equitable solutions.
In addition to the lawyers, Collaborative Divorce often involves the participation of other professionals who work together as a team. These professionals may include financial experts, mental health professionals, and child custody specialists. Their role is to provide expert advice and support to assist in reaching agreements that are in the best interests of the entire family.
The Collaborative Divorce process typically consists of a series of joint meetings where both parties and their respective attorneys come together to discuss and negotiate various aspects of the divorce. These meetings provide a platform for open and honest communication, ensuring that both spouses have a voice in the decision-making process.
Unlike traditional divorce, where the couple relies on a judge to make decisions for them, Collaborative Divorce allows the couple to maintain control over the outcome. This autonomy can often lead to more creative and tailored solutions, taking into consideration the unique needs and circumstances of the family.
One of the main advantages of Collaborative Divorce is its focus on privacy. Unlike in a courtroom setting, where personal details may become public records, the Collaborative process allows the couple to keep their personal matters confidential. This can help minimize the potential damage to relationships and protect sensitive information.
Collaborative Divorce also prioritizes the emotional well-being of everyone involved, including the children. By involving mental health professionals and child custody specialists, the process aims to minimize the negative impact of divorce on children and ensure that their needs are addressed effectively.
Overall, Collaborative Divorce provides an alternative path for couples seeking a more peaceful and respectful resolution to their marriage. By fostering open communication, cooperation, and the use of neutral professional support, this process allows the couple to maintain control, protect privacy, and prioritize the well-being of the whole family.
Where Did Collaborative Law Originate?
Collaborative Law is a relatively new approach to divorce and dispute resolution that has gained popularity in recent years. While it may seem like a modern concept, the origins of Collaborative Law can be traced back to the early 1990s.
The Collaborative Law movement was first developed by a group of visionary family law attorneys in Minnesota, USA. These attorneys recognized the destructive nature of traditional divorce proceedings and were determined to find a better way for couples to navigate their separations.
They believed that divorcing couples should be able to resolve their differences in a respectful and constructive manner, without resorting to the adversarial approach of the courtroom. This led to the development of an alternative dispute-resolution process that prioritizes collaboration and cooperation.
As word of this new approach spread, other family law practitioners across the United States and around the world became interested in the Collaborative Law model. They saw the potential for a more amicable and less adversarial way to handle divorce cases, and they began to incorporate the principles of Collaborative Law into their own practices.
Today, Collaborative Law is practiced in many countries and has gained recognition and support from family law associations and organizations. It has evolved and adapted over the years to meet the needs of different jurisdictions and cultures, but the core principles of collaboration, respect, and problem-solving remain at its heart.
Collaborative Law has revolutionized the way divorces and other family law matters are resolved. It has provided couples with a dignified and empowering alternative to traditional litigation, allowing them to maintain control over their own decisions and find solutions that work for their unique circumstances.
While Collaborative Law may have originated in Minnesota, its principles and practices have spread far and wide, offering hope and a better way forward for divorcing couples around the world.
What is collaborative divorce and how does it work in Texas?
Collaborative divorce is an alternative approach to traditional divorce proceedings that prioritizes cooperation and mutual respect. It provides couples with a more amicable and less adversarial way to navigate their separations, allowing them to maintain control over the outcome and make decisions that work for both parties.
In Texas, the collaborative divorce process follows a specific framework that involves the participation of various professionals, including collaborative attorneys, financial professionals, mental health professionals, and neutral experts. These professionals form a collaborative team that assists the couple in reaching a fair and mutually beneficial settlement.
One of the key aspects of collaborative divorce in Texas is the signing of a participation agreement. This agreement outlines the commitment of all parties involved to work together towards a resolution outside of the courtroom. It also ensures that all parties are fully transparent and disclose all necessary information.
Throughout the collaborative divorce process, joint meetings are held, where both parties and their respective attorneys come together to discuss and negotiate various aspects of their divorce, such as property division, child custody, and financial considerations. The collaborative team also includes professionals who can provide guidance and support in these areas.
One of the unique features of collaborative divorce in Texas is the emphasis on "interest-based negotiation." This means that both parties are encouraged to focus on their underlying interests and concerns rather than their positions. By identifying and addressing these interests, couples can find creative solutions that meet the needs of everyone involved.
Collaborative divorce in Texas also provides a safe and supportive environment for addressing any emotional or psychological challenges that may arise during the process. Mental health professionals, such as family counselors, can help couples navigate the emotional aspects of divorce and establish effective co-parenting plans.
Another benefit of collaborative divorce in Texas is that it can be a more cost-effective option compared to traditional litigation. By avoiding court fees and reducing the need for multiple court appearances, couples can save both time and money.
It is important to note that collaborative divorce in Texas may not be suitable for every couple. In cases involving domestic violence or substance abuse, for example, traditional litigation may be a more appropriate option. However, for couples willing to work together and commit to a collaborative approach, it offers a way to divorce with dignity, respect, and focus on the future.
In summary, collaborative divorce is a process that promotes cooperation and respectful problem-solving. In Texas, it involves a collaborative team of professionals who guide the couple through joint meetings and help them reach a fair and mutually beneficial settlement. By focusing on interests and maintaining open lines of communication, couples can achieve an amicable and empowering divorce experience.
Talk to a Lawyer
An experienced divorce attorney in Harris County, Galveston County, Fort Bend County, Montgomery County, Brazoria County, Houston, Sugar Land, Missouri City, and Stafford, Texas at Thornton Esquire Law Group, PLLC, can provide guidance and offer advice throughout the entire process. Contact us today for a free consultation.