Understanding High Net Worth Divorce: What it is and What it Entails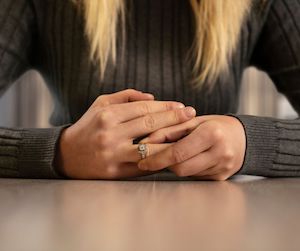 For individuals with high net worth, divorce can be a particularly stressful process. One major concern is asset division. High-net individuals have typically accumulated wealth over time, and thus they have often accumulated considerable assets in the form of investments, joint accounts, trust funds, real estate holdings, and more. In addition to divvying up these assets between the spouses, it's important to also consider debts- including those that may be jointly owned by the couple prior to divorce.
High net-worth divorces are based on several key issues: prenuptial agreements, alimony, and the tax implications of asset distribution. In some cases, such as those involving trust funds or with large amounts of marital property stemming from long marriages where both employers earned reasonable incomes throughout these marriages; it is imperative that an experienced attorney is brought on board to review applicable laws applicable in the given states or countries these assets or partnerships are based in for each individual spouse's best interests. Finally, there might be a need for professional valuation services if necessary so all parties can determine a fair agreement and settle this dispute fairly. The process of getting divorced can be difficult enough without having to worry about such complicated matters.
What is the Impact of Income on Divorce?
Income plays a huge role in divorce proceedings and can greatly determine the outcome. Depending on who has the larger income, child support, spousal support, and other assets can become matters of dispute. For example, if one spouse earns significantly more money than the other, then they may be required to pay more alimony or have higher expectations for their share of assets. If both partners have similar incomes, there will likely be less conflict over financial issues.
Another situation that could affect the outcome of a divorce is if one partner has a high net worth of over $1 million in assets. In this case, it is important to hire an experienced attorney as soon as possible in order to ensure that your rights are properly safeguarded during the proceedings. Your lawyer will work hard to ensure that you keep as many of your assets as possible despite other potential marriage settlements. Income does play an integral part in divorce proceedings and should not be taken lightly when considering how it will affect your future after the divorce is finalized.
What are the Potential Financial Implications of a High-Net-Worth Divorce?
When it comes to a high net worth divorce, the courts will act even more scrutinizingly as there is a significantly higher amount of assets at stake. This means that both parties have to provide full details on their financial records. Not only are normal assets such as houses, cars, and jewelry taken into consideration during this transition but some other assets are also discussed. Such assets include retirement accounts such as 401(k)s and pensions, along with shared benefits or investments between partners or business owners.
In addition to these assets which may be subject to equitable distribution, any income which either spouse earned over the course of the marriage must also be taken into account. Furthermore, some court proceedings may feature an investigation by the IRS if either party submits incorrect information regarding their finances. All of these considerations fall under the umbrella of a high net-worth divorce, making sure that all parties involved get a fair deal from the split.
Is it Possible to Safeguard My Assets and Business in the Event of a Divorce?
A divorce can lead to the division of assets and business interests, leading to a significant loss of resources. Fortunately, there are steps that can be taken to help protect one's assets from being divided in the event of a divorce. A prenuptial agreement prior to marriage is often recommended as a way to safeguard one's assets. This document defines how assets should be distributed in the event of divorce; it also helps preserve inherited or separate property within the marriage. Even if you are already married, a postnuptial agreement can be created to address matters similar to those in a prenuptial agreement and function in a similar manner.
Additionally, those who jointly own businesses with their spouse may consider drafting a shareholder agreement outlining what each party holds or controls during marriage and outlining specifics for each partner if ever faced with handling the business after a divorce. Overall, proper planning ahead can make all the difference when it comes to divorce proceedings. Knowing how best to protect your assets prior to considering dissolving a marriage will ensure one's financial well-being regardless of what comes next.
Talk to a Lawyer
An experienced divorce attorney in Harris County, Galveston County, Fort Bend County, Montgomery County, Brazoria County, Houston, Sugar Land, Missouri City, and Stafford, Texas at Thornton Esquire Law Group, PLLC, can provide guidance and offer advice throughout the entire process.Contact ustoday at www.thorntonesquirelawgroup.com for a free consultation.