Understanding Texas Child Visitation Laws: A Comprehensive Guide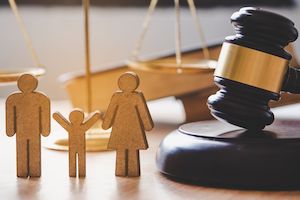 When it comes to divorces that involve children, visitation rights are often one of the most pressing issues. In Texas, the term used to describe this is "possession and access," which refers to the right each parent has to spend time with their child. Every parent, regardless of their conservatorship status, is entitled by law to have reasonable possession of their minor child. This also applies in shared custody cases as well; each parent will be expected to abide by pre-determined visitation schedules or come to an agreement on terms that both parties can agree upon.
Of course, not all cases are applicable to possession and access laws. If a parent is deemed unfit due to domestic abuse, family violence, or neglect allegations against them, visitation may be denied or postponed until further notice from a court of law. They may even have their parenting rights revoked in extreme circumstances — though it's important to note that some factors such as voluntary drug use do not automatically disqualify a parent from seeking out custody or visitation rights either. Therefore it's always important for parents going through divorce proceedings involving minor children to discuss their options with legal counsel before making any decisions that would potentially impact the future of their child.
Parental Equality and Parenting Plans
The state of Texas is committed to the belief that both parents should have equal legal and physical rights in regard to their children. This is evident in the Parental Equality Law, which clearly states a child's right to frequent contact with both parents so long as it does not harm the well-being of the child. Moreover, Texas courts exercise wide latitude when making decisions about parenting plans and visitation arrangements, always making decisions that are guided by what is in the best interest of the child.
The aim of Texas family law is to enable both parents to play an active role in raising their children. This means that all parties have an obligation to demonstrate respect and cooperation toward one another while developing meaningful relationships with the child. It is further intended to prohibit either parent from using time spent with a child to control or manipulate the other parent. Therefore, any attempts at this would be seen as violating Parental Equality Law.
Standard Possession Order ("SPO")
The Standard Possession Order (SPO) categorizes parents in Texas into two groups – a 'primary' parent and a 'non-primary' parent. The primary parent is the one who has been assigned exclusive right to determine the child's residence, and in joint managing conservatorship cases this designation is made by the court following any applicable child support orders. In cases where only a managing and possessory conservator have been appointed, then the managing conservator is deemed to be the primary parent while the possessory conservator becomes the non-primary parent. A key consequence of this legal dynamic is that all times not awarded to the non-primary parent are spent with the primary parent, reflecting an otherwise dutiful consideration for providing children as much time as possible with both their parents.
When it comes to visitation rights, payment of child support does not automatically guarantee any sort of favorable parental privilege or conferred advantage over matters concerning mentioned rights or unrestricted access for either party. This situation highlights the necessity for terms stated in custody agreements to be honored strictly by all parties involved, creating a carefully constructed system designed specifically for each family which explicitly outlines all conditions pertaining to visitation rights and other necessary considerations.
Expanded Standard Possession Order
The Expanded Standard Possession Order (ESPO) is an important tool in family law that provides greater time with children for the non-primary parent. ESPO extends the Texas SPO outlined period of possession from 6:00 pm to include weekday overnights on Thursdays when school dismisses and ends when school resumes on Friday morning. Additionally, it also grants more time during designated weekends, with first, third, and fifth weekends beginning when school dismisses on Friday through Monday morning when school begins again. That's not all - holiday periods are extended as well with possession for the non-primary parent beginning when school dismisses for a break until it resumes after the holiday has ended. In practice, this means that a regular month includes Thursday afternoon through Monday morning visitation or possession by the non-primary parent in addition to Thursday and Sunday nights.
Visitation Issues and Custom Orders
Custom visitation orders are an important tool for unmarried parents who need to work out a schedule that suits their unique needs throughout the year and beyond. These types of arrangements allow families to be creative in crafting something that works for them, taking into consideration the needs of both the parents and the child. In Texas, custom possession orders must comply with state law, as well as mitigate visitation issues.
Formulating a custom possession order involves detailed planning, as it must take into account things like work schedules, travel plans, schooling requirements, and recreational activities for all involved parties. It's important to ensure that it does not conflict with child custody laws in any way. For this reason, some families may choose to have a parenting time specialist or family lawyer oversee the agreement-making process to ensure its validity in Texas courtrooms. With careful thought and consideration were given to everything involved in making a personalized visitation arrangement, both parents can rest assured knowing they have created an arrangement that is best suited for their family's unique needs.
Get Help From an Experienced Lawyer in Texas
An experienced family law attorney in Harris County, Galveston County, Fort Bend County, Montgomery County, Brazoria County, Houston, Sugar Land, Missouri City, and Stafford, Texas at Thornton Esquire Law Group, PLLC, can help you explain and navigate the entire case process. Contact us today at www.thorntonesquirelawgroup.com for a free consultation.