Understanding Texas Personal Injury Laws: A Comprehensive Guide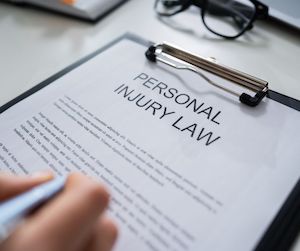 The state of Texas has its own specific laws and liability rules when it comes to personal injury cases that could affect an insurance claim or lawsuit. Knowing these laws can help make the legal process smoother for those looking to seek compensation for damages related to their injuries. If a person is injured due to another person's negligence, such as from car accidents or medical malpractice, then they may be able to sue the liable party for compensatory damages. This does not just mean monetary restitution but also covers non-financial aspects such as mental anguish, lost wages, and pain and suffering.
Under Texas law, personal injury victims may still be entitled to compensation regardless of who was at fault in an incident as long as all parties involved share some form of liability. If multiple entities are held responsible, they will each have their percentage of responsibility attached to it–so one party may bear more culpability than others. Additionally, there are statutes of limitations in place in the state of Texas concerning personal injury cases which gives claimants a certain time frame within which they must bring forth a case before it can no longer be litigated in court.
Texas has a Statute of Limitations for Personal Injury Cases.
The Texas Personal Injury Statute of Limitations is an important part of understanding your legal rights and the timeline for taking action if you've been injured because of someone else's negligence or wrongful act. This law gives victims and their families two years from the date of injury to file a lawsuit in the state's civil court system. It's important to understand this rule and comply with it, as missing the window puts anyone looking to take legal action at the risk of having their case denied by the court.
Although two years may sound like a long time, it is in your best interest to begin researching and consulting with a qualified attorney as soon as possible after your injury; not only will this ensure you don't miss the filing deadline, but it will also give your lawyer enough time to thoroughly examine all aspects of your case before filing any necessary paperwork with the court. That way, you'll have the best chance of obtaining full compensation for all the financial losses caused by your injury.
Texas Shared Fault Rules
In the state of Texas, shared fault rules can apply in certain personal injury cases. This means that if you are partially responsible for the incident that led to your injuries, a court can reduce the total amount of compensation you can receive from other at-fault parties. This is known as the "modified comparative negligence rule," which states that your award will be reduced by an amount equal to your percentage of fault. However, if you are found to have more than 50% of legal blame for the accident then you won't be able to collect anything from any other at-fault parties.
The overall goal of this shared-fault rule is to ensure that anyone who contributes harm or injury should take responsibility for their actions and pay a portion of the damages caused. It also works towards making sure those with little or no fault don't bear an unequal burden for damages caused by someone else's negligence. As a result, the burden of proof in these types of cases can be very high; defendants must be able to prove and substantiate that the plaintiff holds some level of fault before being awarded damages.
Texas has a Limitation on the Amount of Compensation That can be Awarded for Injuries.
Texas state statutes impose restrictions on the amount of damages that can be awarded in medical malpractice cases. Non-economic damages, which are intended to compensate for pain and suffering, are capped at $250,000 per defendant and $500,000 in total.
This means that if the injured party was bringing a claim against two defendants they could only receive a maximum of $500,00 total regardless of how extensive the injury. While this may seem detrimental to someone who is severely injured by medical malpractices another limitation provides some balance.
Due to indexed inflation adjustments since 1977 Texas has set limits on wrongful death medical malpractice cases at two million or more. Unlike non-economic damages which stay primarily fixed on an annual basis--adjusting for inflationary increases--wrongful death damages have much greater potential due to these adjustments allowing families affected by unjust losses the ability to receive more substantial compensation for their tragedy. It, therefore, is important to understand both types of limitations when looking at possible avenues for legal redress after suffering from medical malpractice in Texas.
Get Help from an Experienced Personal Injury Lawyer in Texas
An experienced personal injury lawyer in Harris County, Galveston County, Fort Bend County, Montgomery County, Brazoria County, Houston, Sugar Land, Missouri City, and Stafford, Texas at Thornton Esquire Law Group, PLLC will take over the case from the very beginning and make sure that you receive fair compensation for your injuries. A personal injury lawyer will help you recover medical expenses, lost wages, pain and suffering, and other losses due to the accident.Contact us today at www.thorntonesquirelawgroup.com for a free consultation.