Understanding the Differences Between Contested and Uncontested Divorce in Texas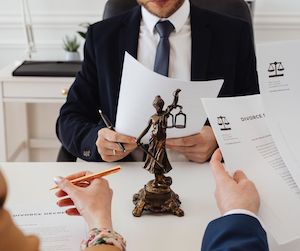 In an uncontested divorce, the parties have agreed on all aspects of their divorce and will not be contesting any elements during the proceedings. This type of agreement is typically made through mediation or other out-of-court settlement tools. An uncontested divorce is usually the quickest and most economical way to dissolve a marriage.
On the other hand, when spouses cannot agree on key issues such as property division or child custody and support, they may end up in a contested divorce. In a contested divorce, each spouse has to prove their claim to the court in order for a final order to be issued by the judge overseeing the case. This process can be time-consuming for both parties and can involve costly attorneys' fees if both sides require legal representation during this process. It is important to remember that preparation is key when it comes to navigating a contested divorce in Texas so it's always best to consult with an experienced family law attorney before taking any action.
Contested Divorce
A contested divorce is a legal separation between two spouses where there are unresolved issues that become disputed and cannot be agreed upon. The biggest challenge of going through a contested divorce is typical that it requires the assistance of seasoned legal professionals if the parties want to reach an amicable settlement, as they must navigate all potential scenarios while defending their personal rights and interests under the law. Common areas of contention during a contested divorce involve matters related to children such as primary custody, visitation, child support, or medical/educational issues. Additionally, financial and property disputes often arise such as with real estate, retirement accounts, alimony, or business ownership which have to be sorted out for a final resolution in the court system.
In cases like these, an experienced divorce lawyer can come in very useful since they understand local laws and regulations guaranteeing fair proceedings. Moreover, due to their professional background, an attorney with knowledge of complex legal processes can handle Contested Divorce proceedings in a fast, easy, and affordable manner depending on the situation at hand. Therefore having access to proper representation when faced with such strong emotions and complicated issues becomes paramount so that you can protect your family and belongings more efficiently.
Uncontested Divorce
An uncontested divorce is becoming an increasingly popular option in Texas as couples are seeking to maintain control over their parenting and property arrangements. Through informal negotiation or mediation, couples can often come to an agreement on many issues such as a parenting plan and division of property even if they feel like they cannot work out the details between themselves. An experienced divorce lawyer can then help finalize the details and help the process move quickly.
The main benefit of an uncontested divorce is that it allows both parties to have a significant say in how their situation will be handled. The terms of an uncontested divorce are agreed upon mutually so that each spouse feels comfortable and safe with the result. This provides couples with a level of comfort that is not available in other types of divorces, where the courts make all decisions regarding the arrangement. Uncontested divorce also avoids lengthy court battles that cost time and money while providing stabilization for families during a difficult period of transition.
What is the Cost of a Contested Divorce and an Uncontested Divorce?
The cost of a Contested Divorce can vary significantly depending on the complexity of the issues involved and how much resistance there is between both spouses. Generally, it is much more costly than an Uncontested Divorce, as multiple court hearings and negotiations will be required to reach a settlement agreement. Because of this, resolving the dispute outside of court through mediation or negotiation is often recommended to keep costs down.
On the other hand, an Uncontested Divorce is typically cheaper because it is far simpler than a Contested Divorce. An Uncontested Divorce can be done with just one spouse represented by a lawyer and minimal paperwork being filed, so costs are drastically reduced compared to Court Fees in a Contested Divorce. Ultimately, when working together with your spouse to agree on all terms, you have greater control over how much your divorce will cost and save yourself time and money in the long run.
Comparing the Procedures of a Contested Divorce and an Uncontested Divorce.
The initial step in Contested Divorces is submitting an Original Petition for Divorce to the court. This is usually done by a divorce lawyer who crafts a document called a Divorce Petition that contains information about both parties and the marriage itself. The petition starts the divorce process, commencing with legal proceedings in court which can often be lengthy and costly depending on how complicated or contested the issues are.
Uncontested divorces do not necessarily require courtroom appearances; however, they also involve filing a Divorce Petition with the court. This document should include basic factual details like the names and addresses of both spouses as well as other relevant information regarding any children involved in the union. The goal of an uncontested divorce is to reach an agreement between spouses regarding multiple issues such as child custody, property division, spousal support, and more without having to go through litigation. Uncontested divorces take less time than contested ones but still involve skilled professionals to ensure that all paperwork is completed properly and efficiently.
Talk to a Lawyer
An experienced divorce attorney in Harris County, Galveston County, Fort Bend County, Montgomery County, Brazoria County, Houston, Sugar Land, Missouri City, and Stafford, Texas at Thornton Esquire Law Group, PLLC, can provide guidance and offer advice throughout the entire process. Contact us today at www.thorntonesquirelawgroup.com for a free consultation.