Understanding the Differences Between Fault and No-Fault Divorce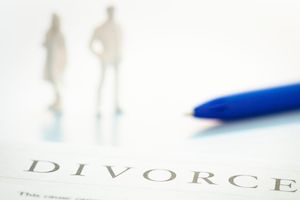 Fault and no-fault divorce are two different types of divorce proceedings that vary primarily on their required proof in order to successfully complete a divorce. Depending on where one lives, certain states allow only the option of a fault-based divorce while others give couples the ability to choose between a fault or no-fault divorce.
A fault-based divorce puts the blame upon one of the spouses for ending a marriage, such as desertion or adultery, while a no-fault divorce simply allows couples to agree that differences between them have caused an irretrievable breakdown in their marriage. In traditional fault divorces, evidence and testimony must be presented in order to prove that one spouse is at fault, whereas with no-fault divorces, neither party has to prove any wrongdoing by either spouse. This is often why so many states favor the latter because there are less heightened emotions and discord involved compared to fault proceedings which can add additional stressors for both parties during what is already an uncertain time in their lives.
No-Fault Divorce
No-fault divorce is a type of legal dissolution of marriage in which the spouse filing for divorce does not need to prove the fault of the other. This type of divorce has been adopted by all states in America as an accepted way to legally terminate a marriage. There are, however, only 19 "true" no-fault states requiring that spouses live separately for a designated period of time before either party can file for divorce.
The grounds on which this form of termination can take place are typically "irreconcilable differences" or an "irreparable breakdown of the marriage". In this case, one spouse cannot object to the other's petition due to the court potentially viewing it as an irreconcilable difference. It is therefore important to understand which states recognize true no-fault divorces and any applicable requirements that must be met in order for legal action to take place.
Fault Divorce
Fault divorces are not nearly as popular as no-fault divorces nowadays. When a spouse requests a divorce based on fault, the "matrimonial offenses" given as grounds for divorce include adultery, abandonment for a certain length of time, prison confinement, and physical inability to have sexual intercourse if that condition existed before the marriage and remained hidden until after the marriage had taken place.
In today's society, many find fault divorces to be too strenuous and draining. Filing on the basis of fault requires extra evidence such as having proof that one partner committed adultery or testimonials from those who have witnessed any other defined matrimonial offenses in order to prove this case in court. This kind of divorce not only takes longer due to gathering evidence but also can take an emotional toll on both parties involved. With that being said, fault divorces still exist because some marriages may have truly irreparable damages.
Fault Divorce: Comparative Rectitude
A fault divorce is a type of divorce wherein at least one party must prove the other spouse was at fault in the marriage. If both spouses can successfully prove they are not blameless, the court will then decide which one is least responsible; this is known as comparative rectitude. The idea behind it is to provide the impetus for both parties to collaborate on common grounds and settle their differences outside of a courtroom.
The doctrine of comparative rectitude emerged in order to counter the issue of courts continually granting neither party a divorce if they were both deemed to be at fault. This establishes that not allowing either person in the marriage to obtain a divorce is a harsher outcome than someone else being let off the hook or deemed more culpable. Generally, courts prefer not to be seen forcing people who no longer want to be married to remain wed for indefinite periods, which is why comparative rectitude exists and has been established as standard policy in many states' legal systems.
Fault Divorce: Defenses
A fault divorce is an option if one spouse objects to a no-fault divorce and has committed a wrong that can be used as grounds for the ending of a marriage. In order to defend themselves against these claims, spouses often present various defenses. One such defense is connivance, which is when the complaining spouse agrees or even participates in the other's adultery. This means that they encouraged or allowed it, or provided an opportunity for it to take place.
Condonation is another form of defense where the other spouse basically forgives the offending partner's sanctions and resumes their marital life together. If both spouses have knowingly done something to forgive the wrongful act and then move on with their married lives, this condonation can be used as a legitimate defense against any claims of faulty divorce. Both connivance and condonation are effective defenses against fault divorces, as they cast doubt onto the provable causation of criminality involved.
Fault and No-Fault Divorce: Residency Requirements
The United States has different divorce laws across its states, with many requiring a certain period of residency for those who wish to file. One of the prerequisites for initiating a divorce proceeding in a state is that either one of the spouses must have been a resident for a period ranging from six months to one year.
When choosing which state to file divorce proceedings in it is important to consider a range of factors including those listed above and which court is likely to be more amenable to granting your desired outcomes; it pays to remember that the court gives its authority on the matter will also hold jurisdiction over any future changes or modifications that may be necessary further down the line. To ensure you get an outcome that suits your needs and requirements it's usually best to file for divorce in the state where you currently reside.
Talk to a Lawyer
An experienced divorce lawyer in Harris County, Galveston County, Fort Bend County, Montgomery County, Brazoria County, Houston, Sugar Land, Missouri City, and Stafford, Texas at Thornton Esquire Law Group, PLLC, can help you with your divorce case. Contact us today at www.thorntonesquirelawgroup.com for a free consultation.