Understanding Your Rights as an Unmarried Father: A Guide to Child Custody and Visitation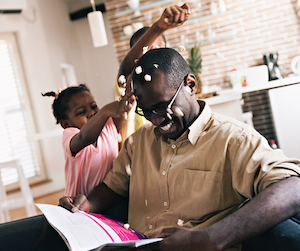 Unmarried fathers often find themselves struggling with questions of how to establish legal rights for their children. Fortunately, various laws have been established that provide unmarried fathers the opportunity to assert parental visitation and custody rights. In most jurisdictions, an unmarried father is legally entitled to custody or visitation if he can demonstrate that he has maintained a substantial relationship with the child and has contributed financially to the child's needs. In some states, a court order may be necessary to grant legal rights to an unmarried father; in others, it is not required.
If an unmarried father wishes to receive visitation or custody, he must first establish paternity - typically through a DNA test. Once paternity is confirmed or established by another means such as acknowledgment or court order, the father can begin pursuing his parental rights by filing documents in court requesting visitation and/or custody privileges. The court then determines both parties' fitness to care for the child and will make its decision based on the findings along with any other factors they deem relevant such as financial stability and assurance of a safe environment for the child.
Establishing Paternity
Establishing paternity may be the first step for a father who was not married to the mother of their child at the time the child was born. It is often a simple process for unmarried parents who agree on paternity, which involves signing and filing an acknowledgment of paternity with their state agency or court. However, in cases where it is disputed, legal proceedings including DNA testing can be used to conclusively determine if the man claiming to be the father is indeed the biological parent.
A successful establishment of paternity grants fathers accesses to their rights as a parent. This includes rights such as seeking legal custody and visitation with their children. Many states also offer simultaneous filing for recognition of paternity and custody orders that provide visitation rights at the same time; this enables the straightforward continuation of processes to safeguard fathers' parental claims over their children. Overall, legally establishing paternity serves as an important catalyst towards greater involvement in parenting matters by two equally driven parents regardless of marital status.
The Subject Being Discussed Pertains to Child Visitation and Custody Arrangements
A child visitation and custody agreement is a legal document that outlines the parents' roles in raising their child in both physical and legal aspects. It can either be created pre-litigation or post-litigation, which involves negotiating how to share parenting duties by detailing a parenting plan or timesharing schedule. Physical custody refers to who the child lives with most of the time, while legal custody addresses the parent(s) who makes decisions on issues such as education, healthcare, extracurricular activities, and religious matters.
The agreement will outline when and how long the noncustodial parent can spend time with their child during regular visitation periods. It may also specify additional considerations such as long-distance visitation over holiday periods or if one of the parents has to travel for extended periods of time either domestically or overseas. These agreements ultimately decide where children reside while they are growing up and clarify each individual family member's role in providing care and nurturing for their beloved children.
Legal Regulations Regarding Visitation and Custody Rights for Unmarried Fathers
As unmarried parents often have disparate views on visitation and/or custody rights, it is not uncommon for them to have to take the matter to court in order to arbitrate a reasonable agreement. If this happens, they may choose to file an agreed-upon parenting plan with the court. This will help make any arrangement enforceable by turning it into a formal court order. If the parents are unable to come to a mutually beneficial arrangement, either parent can request assistance from the court.
During this process, judges focus solely on what is best for the child involved in order to come up with an outcome that works best for all parties. While there is a misconception that it is difficult for unmarried fathers to be awarded sole custody of their children, there are actually many success stories out there about fathers being granted custody when circumstance allows for it. Ultimately, whatever decision is made by the courts comes down to what is seen as best for the child.
Legal Professionals Can Aid in Protecting the Custody and Visitation Privileges of Fathers Who Are Not Married
Unmarried fathers often face a difficult battle when it comes to safeguarding their parental rights, particularly in regard to custody and visitation. With so many varying laws from state to state, navigating this journey on your own can be daunting. A skilled attorney has the expertise and experience necessary to advise unmarried fathers on the steps they should take to realize their full parenting privileges.
Without the legal representation of an experienced lawyer, unmarried fathers will have a hard time understanding their options in pursuing custody or visitation rulings. An attorney provides a unique insight into the matter and will be able to assist you in protecting your rights while advocating on behalf of the child's best interests. From gathering evidence, building a compelling case, and negotiating with opposing parties, your lawyer is there every step of the way. Armed with the resources of an established law office, you can rest assured that your interests are being taken into account as you form plans for sharing parenting responsibilities with your son or daughter's other parent.
Contact an Experienced Family Law Attorney in Texas
An experienced family law attorney in Harris County, Galveston County, Fort Bend County, Montgomery County, Brazoria County, Houston, Sugar Land, Missouri City, and Stafford, Texas at Thornton Esquire Law Group, PLLC, can help you explain and navigate the entire case process. Contact us today at www.thorntonesquirelawgroup.com for a free consultation.