What Are the Residency Requirements for Filing for Divorce in Texas?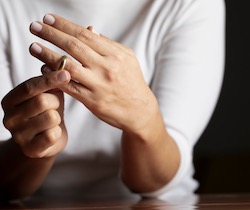 To initiate the divorce process in Texas, it is necessary to meet specific residency requirements. One party must have resided in Texas for a minimum of six months before filing for divorce and must have also lived in the county where the divorce is being sought for at least 90 days.
These residency requirements are in place to ensure that the state of Texas has jurisdiction over your divorce case and that the local court where you plan to file for divorce has authority over your case.
It's important to note that simply owning property or paying taxes in Texas does not qualify as residency for divorce purposes. You or your spouse must have actually lived in the state for the required amount of time.
If you are seeking a divorce in Texas but do not meet the residency requirements, you may need to wait until you have met the necessary residency period before you can file. Alternatively, if your spouse meets the residency requirements, they may be able to file for divorce in Texas even if you do not.
If you are unsure about whether you meet the residency requirements to file for divorce in Texas, it's best to consult with a Texas family law attorney who can assist you in determining your eligibility and guide you through the divorce process.
What are the legal requirements for divorce in Texas?
In Texas, divorce can be granted based on both fault and no-fault grounds, with the latter being referred to as "insupportability." This indicates that the marriage has become unsupportable due to unresolved conflicts or disagreements. In other words, neither party is at fault for the breakdown of the marriage.
One of the fault-based grounds for divorce in Texas is adultery. This means that one spouse has engaged in sexual intercourse with someone outside of the marriage. Another fault-based ground is cruelty, which includes physical or emotional abuse.
One reason for divorce in Texas is abandonment. This happens when one spouse leaves the other for at least one year with the intent to abandon the marriage. Another reason is incarceration, which occurs when one spouse has been imprisoned for at least one year due to a felony conviction.
It's worth noting that proving fault can be a difficult and costly process. In many cases, it's easier to seek a no-fault divorce and avoid the need to provide evidence of wrongdoing.
If you're considering a divorce in Texas, it's important to understand the grounds for divorce and the potential benefits and drawbacks of each option. Consulting with an experienced divorce attorney can help you determine the best path forward for your specific situation.
Are there any available support options for myself and my children?
If you are going through a divorce and have minor children, one of the major concerns you may have is how you will support yourself and your children after the divorce is finalized. Thankfully, Texas law provides for spousal support and child support in certain circumstances.
Spousal support, also known as alimony, can be awarded to a spouse who needs financial assistance following a divorce. In Texas, spousal support is not automatic and is only granted in certain situations, such as when one spouse has been convicted of family violence or when the marriage lasted for at least ten years.
Child support, on the other hand, is usually awarded in every divorce case where there are minor children involved. The amount of child support that is awarded is based on a number of factors, such as the income of each parent, the needs of the children, and the amount of time each parent spends with the children.
It's important to note that child support is not just a financial obligation, but a legal one. This means that if your ex-spouse fails to pay child support, they can face legal consequences, such as wage garnishment or even jail time.
If you are in need of spousal support or child support, it's important to work with a qualified family law attorney who can help ensure that your rights are protected. Your attorney can help you navigate the legal system and advocate on your behalf to get the financial support you need to provide for yourself and your children.
What is the breakdown of assets and debts in a divorce?
Divorce can be a complicated process, especially when it comes to dividing assets and debts between two spouses. In Texas, there are specific laws that govern how property is divided during a divorce. It is essential to understand these laws as you navigate the divorce process.
In Texas, as a community property state, any property obtained during the marriage is viewed as shared property, which includes income, assets, and debts. However, any property that was acquired before the marriage or property that was received as a gift or inheritance is considered separate property and is not subject to division during a divorce.
Once it has been determined which assets and debts are considered community property, they must be divided equitably between the spouses. While this doesn't necessarily mean an equal split, the goal is to make a fair and just division.
There are several factors that come into play when dividing assets and debts. The first factor that is considered is the length of the marriage. The shorter the marriage, the less likely it is that one spouse will receive a significant amount of the property or assets.
Another key factor is each spouse's contribution to the marriage. This could include contributions to the family income, childcare, education, household duties, or other factors that have contributed to the marriage's success.
It is essential to work with an attorney during the divorce process to ensure that you get a fair share of the assets and debts. An attorney can help you gather all of the necessary documentation, determine which assets and debts are community property, and negotiate a favorable settlement.
In addition to property division, debts must also be divided between the spouses. This includes any credit card debts, mortgages, or other debts that were acquired during the marriage. Debts are treated similarly to assets, and they must be divided equitably between the spouses.
It's important to remember that the division of assets and debts can be a highly emotional and contentious process. However, understanding the laws and working with an experienced attorney can help ensure that you receive a fair and just settlement.
Talk to a Lawyer
An experienced divorce attorney in Harris County, Galveston County, Fort Bend County, Montgomery County, Brazoria County, Houston, Sugar Land, Missouri City, and Stafford, Texas at Thornton Esquire Law Group, PLLC, can provide guidance and offer advice throughout the entire process. Contact us today at www.thorntonesquirelawgroup.com for a free consultation.