What Should I Know About My Personal Injury Case?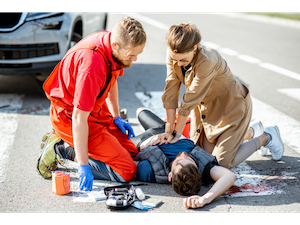 Personal injury law covers a wide range of legal issues including those related to auto accidents, dangerous products, workplace injuries, medical malpractice, and many others. While it's true that most personal injury cases involve automobile accidents, there are many ways in which individuals suffer harm due to the negligence or intentional misconduct of others. For example, people can fall victim to faulty construction projects, slip and falls, dog attacks, product defects, unsafe workplaces, medical errors, and much more.
The key to understanding how personal injury law works is knowing what type of case you have. If you suffered a serious physical injury because someone else negligently failed to provide adequate safety precautions, then you may file a lawsuit against that party. However, if you slipped and fell while walking down a public sidewalk, then you might sue the city or town where the accident occurred. In either scenario, the goal is to hold the responsible parties accountable for their actions.
Insurance Company Settlement Offers Are not Always Fair.
Insurance companies often offer low settlements because they want to protect themselves against future claims. However, there are ways to negotiate a better deal. Here are three things you should know about insurance company settlement offers.
1. You Don't Have to Accept an Insurer's Initial Offer.
If you receive a settlement offer from your insurance provider, it doesn't mean you have to take it. Your attorney can help you determine whether accepting the offer is in your best interests.
2. Don't Give up Too Soon.
The longer you wait to settle, the less likely you are to get a good offer. If you're still dealing with pain and suffering, you might not realize how much money you could potentially recover.
3. Negotiate every aspect of your case.
Your lawyer can help you identify areas where you can make concessions without compromising your position. For example, you might agree to waive certain legal fees if you get a larger payout.
Working With an Experienced Lawyer Matters
It's important to remember that there are still many people out there who don't know how much money they could receive if they suffered a serious injury. In fact, according to the National Safety Council, nearly 30 million Americans suffer a work-related injury every year. And while most of those injuries aren't life-threatening, they do cause significant pain and suffering. If you've been injured at work, you might be eligible for workers' compensation benefits. However, you must act quickly to protect yourself and your family.
If you're considering filing a workers' compensation claim, here are three reasons why working with an experienced lawyer makes sense:
1. You Can Be Rest Assured Your Rights Are Protected
When you file a workers' compensation case, you'll likely be required to provide proof of your injury. This includes submitting medical records, police reports, witness statements, and photos of your injuries. Even though you won't be able to sue anyone else for negligence, you'll want to make sure that your employer isn't trying to avoid paying you. An experienced lawyer can help ensure that your rights are protected.
2. You Have Peace of Mind
In addition to ensuring that your rights are protected, an experienced worker's compensation lawyer can also help you feel confident about your future. They understand what it takes to navigate the complex system and can explain how the process works. Plus, they'll keep you updated throughout the entire process, making sure that you always know where things stand.
An experienced personal injury lawyer in Harris County, Galveston County, Fort Bend County, Montgomery County, Brazoria County, Houston, Sugar Land, Missouri City, and Stafford, Texas at Thornton Esquire Law Group, PLLC will take over the case from the very beginning and make sure that you receive fair compensation for your injuries. A personal injury lawyer will help you recover medical expenses, lost wages, pain, and suffering, and other losses due to the accident. Contact us today at www.thorntonesquirelawgroup.com for a free consultation.
Every Case is Different.
Personal injury law is one of the most complex areas of the law. While there are many similarities among all types of personal injuries, each claim is unique. For example, while every car accident case involves some form of negligence, the nature of the negligence varies widely. In addition, the amount of damages awarded in a given case depends on numerous factors, including the severity of the injury, the extent of medical treatment required, the length of the recovery period, and the plaintiff's age, health, work history, etc.
The same holds true for personal injury lawsuits. Each case is unique, so it's important to consult with an experienced attorney early on to understand what you may be entitled to recover. A personal injury lawyer can help you determine how much compensation you deserve based on the facts of your particular case.
Some Cases Take Time.
Injury victims often feel pressured to accept the first offer from insurance companies. In many situations, this pressure stems from the fact that injured people are faced with mounting medical bills and possibly being unable to work.
Before accepting an initial settlement offer from an insurer, it can be in a person's best interest to consult with an experienced personal injury lawyer who understands how difficult it is to obtain compensation for injuries sustained in accidents.
Many cases are fairly settled in just a few months, but those that go to trial may require several months or even a full year to resolve.
Your attorney will personally discuss your case with you and explain what he or she expects to happen during the course of the litigation process.
Cases may Settle out of Court or Go to Trial.
Personal injury claims are often resolved outside of litigation. Insurance companies typically offer settlements based on the value of the claim. If you accept the offer, it could mean that you don't have to worry about paying medical bills or losing income while recovering from your injuries. However, if you reject the offer, you'll likely face a lawsuit against the responsible party.
If you're injured because of someone else's negligence, you might be entitled to compensation for lost wages, pain and suffering, and medical expenses. You might even be able to recover punitive damages, which are meant to punish negligent parties for causing harm.
In Texas, there is no cap on how much money you can receive in a personal injury suit. In fact, some people have received millions of dollars in compensation for their injuries.