Who is Liable in a Rideshare Accident in Texas? Understanding the Legal Landscape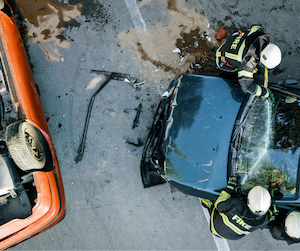 When it comes to rideshare accidents in Texas, understanding liability is crucial. With the growing popularity of rideshare services like Uber and Lyft, more and more people rely on these convenient and affordable transportation options. However, accidents can and do happen, and it's important to know your rights and responsibilities if you're involved in a rideshare accident.
One of the key factors in determining liability in a rideshare accident is the employment status of the driver. Rideshare drivers are classified as independent contractors rather than employees of the company. This distinction can impact who is held responsible for the accident and any resulting damages.
If the rideshare driver is at fault for the accident, their personal insurance policy may provide coverage for property damage and bodily injury. However, it's worth noting that personal auto insurance policies often have exclusions for accidents that occur while the insured is engaged in commercial activities, such as driving for a rideshare service. This means that the driver's personal insurance may deny coverage for the accident.
In response to this gap in coverage, rideshare companies typically provide liability coverage for their drivers. Uber and Lyft, for example, have insurance policies that cover bodily injury and property damage for drivers who are logged into the app and are available to accept rides. This coverage typically applies when the driver's personal insurance denies their claim or when it's insufficient to cover the damages.
It's important to understand that the level of coverage provided by the rideshare company's insurance policy may vary depending on the specific circumstances of the accident. For example, if the driver is not logged into the app or is not on an active trip at the time of the accident, their personal insurance policy may be the primary source of coverage.
In cases where the rideshare driver is not at fault for the accident, the liable parties may include the other driver involved, their insurance company, or even the rideshare company if there are issues with maintenance or safety protocols for the rideshare vehicle.
If you've been injured in a rideshare accident, it's crucial to seek medical care and report the accident to the police. Gathering evidence from the scene, such as photographs, witness statements, and the police report, can be crucial in building a strong personal injury claim.
To navigate the complex legal process and ensure you receive fair compensation for your injuries, it's highly recommended to seek the assistance of an experienced personal injury attorney. A skilled attorney can help you understand your rights, gather evidence, negotiate with insurance companies, and pursue a personal injury lawsuit if necessary.
In conclusion, rideshare accidents in Texas can involve complex liability issues. Understanding the specific circumstances of the accident, the driver's employment status, and the insurance coverage available is key to determining who may be held responsible for the damages. If you've been involved in a rideshare accident, it's important to consult with an experienced attorney who can guide you through the legal process and help you pursue maximum compensation for your losses.
Factors that Commonly Contribute to Rideshare Accidents in Texas.
Rideshare services like Uber and Lyft have gained popularity in recent years, offering convenience and affordable transportation options to individuals across Texas. However, with the increasing number of rideshare vehicles on the road, there has also been a rise in rideshare accidents. Understanding the common causes of these accidents is essential to promoting safer rideshare experiences.
Distracted Driving: One of the leading causes of rideshare accidents in Texas is distracted driving. Rideshare drivers may be tempted to use their mobile devices to navigate, respond to messages, or even complete additional rides in between trips. Any type of distraction can significantly impair a driver's ability to react to potential hazards, increasing the risk of an accident.
Fatigue: Rideshare drivers often work long hours to maximize their earnings. Unfortunately, this can lead to driver fatigue, which is a significant danger on the road. Fatigue can impair a driver's judgment, reaction time, and overall cognitive abilities, making them more prone to making mistakes or falling asleep at the wheel.
Reckless Driving: Some rideshare drivers may engage in reckless driving behaviors to complete trips quickly or earn higher ratings. Speeding, tailgating, erratic lane changes, and running red lights are examples of reckless driving behaviors that can lead to serious accidents and injuries.
Intoxicated Driving: While rideshare drivers are expected to follow strict no-alcohol policies while on duty, there have been instances where drivers have been impaired or under the influence of drugs or alcohol. Intoxicated driving puts both the driver and passengers at significant risk and is a major cause of rideshare accidents.
Inexperience: Rideshare drivers may be independent contractors, but they still need to possess a valid driver's license and meet certain requirements to operate legally. However, some drivers may lack experience on the road, leading to poor decision-making, difficulty navigating, or inadequate reaction to potential hazards.
Vehicle Maintenance Issues: Rideshare vehicles are required to meet certain safety standards to ensure passenger safety. However, some drivers may neglect regular maintenance or overlook significant issues with their vehicles. Faulty brakes, worn-out tires, or malfunctioning headlights can increase the risk of accidents on the road.
Adverse Weather Conditions: Texas is known for its unpredictable weather, including heavy rain, strong winds, and even occasional ice or snow. Rideshare drivers must be prepared to navigate these challenging weather conditions safely. However, some drivers may not have the necessary experience or skills, increasing the likelihood of accidents.
It's important for both rideshare drivers and passengers to be aware of these common causes of rideshare accidents in Texas. By understanding the risks associated with these factors, rideshare companies can work towards implementing more effective training programs, promoting safe driving practices, and ensuring the safety of both drivers and passengers on the road. Additionally, passengers should always prioritize their safety by buckling up, avoiding distractions, and reporting any concerns about their driver's behavior to the rideshare company.
Get Help from an Experienced Personal Injury Lawyer in Texas
An experienced personal injury lawyer in Harris County, Galveston County, Fort Bend County, Montgomery County, Brazoria County, Houston, Sugar Land, Missouri City, and Stafford, Texas at Thornton Esquire Law Group, PLLC will take over the case from the very beginning and make sure that you receive fair compensation for your injuries. A personal injury lawyer will help you recover medical expenses, lost wages, pain and suffering, and other losses due to the accident. Contact us today for a free consultation.