Why Establishing Paternity is Important in Texas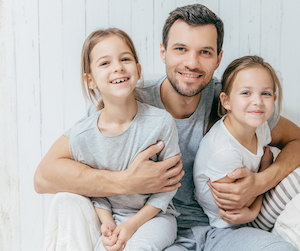 Establishing paternity in Texas is a process whereby a man becomes the legal father of a child. Paternity can be established through one of several different methods provided for under the Texas Family Code. The easiest and most common way to establish paternity is if a man is married to the mother of the child, and either the child was born during this marriage or within 300 days after it ends. This creates a presumption of paternity, which must be attacked via suit or the filing of an Acknowledgement of Paternity by another person if it is to be overturned. For those unmarried men who wish to firmly establish their identity as the father, they may do so by signing an Acknowledgement of Paternity (AOP), thereby creating in them both legal rights and duties towards that child.
Beyond establishing rights over his own child, signing an ACH can also help with other matters such as inheritance law and issues relating to insurance coverage for medical bills or childbirth-related expenses. In Texas, both parents must sign an ACH for acknowledgement purposes before the father's name can appear on the birth certificate and prior to any obligations stemming from family responsibility laws occurring.
The Process of Acknowledging Paternity in Texas is Effective
An effective Acknowledgement of Paternity (AOP) is an essential part of the legal process in Texas. An AOP is a document signed by a mother and a man acknowledging that he is the biological father of the child. To be valid, the agreement must meet certain requirements stipulated by the state laws. Firstly, it must be "in a record" meaning both parties must provide sufficient documentary evidence to state their intent to affirm paternity without reasonable doubt. Secondly, identification documents for both mother and father must be included as proof, alongside signatures or other forms of authentication such as electronic thumbprints with a penalty of perjury from both individuals. Finally, the acknowledgement form will have to be referred either to the court or the local Office Of Vital Statistics for induction into public records storing critical information about family units across Texas.
Denial of Paternity in Texas
The denial of paternity in the state of Texas is a process that can be utilized when another man claims to be the father of a child instead of the presumed father. In these cases, the presumed father can sign a legal document denying his paternity and surrendering any rights or obligations he has as a parent to the child. This denial becomes effective with another man's acknowledgement of paternity which then results in an official court ruling stating who is legally deemed as the father. Denying your paternity requires filing a valid Acknowledgement of Paternity (AOP) document by the other man while meeting specific requirements stated in Texas state laws.
This process serves to protect individuals and families who are dealing with fathers unsure about their paternal involvement and those falsely identifying themselves as such. It allows children to receive benefits from their real fathers while ensuring that men are not obligated to care for or financially support children that they didn't biologically sire. Despite not being recognized by them, it provides an important right to presumed fathers who may have been wrongly identified on birth documents or declared so due to certain mistakes during legal proceedings for another purpose.
Contact an Experienced Family Law Attorney in Texas
An experienced family law attorney in Harris County, Galveston County, Fort Bend County, Montgomery County, Brazoria County, Houston, Sugar Land, Missouri City, and Stafford, Texas at Thornton Esquire Law Group, PLLC, can help you explain and navigate the entire case process. Contact us today at www.thorntonesquirelawgroup.com for a free consultation.